When students head to college, they may try joining clubs, auditioning for an a cappella group, trying out for the rugby team, or drawing comics with fellow anime lovers. Sam Martinez, a talented student-athlete from Bellevue who enrolled at Washington State University, hoped that joining a fraternity would lead to lifelong friendships. Instead, the pledging process included intense hazing and resulted in the 19-year-old's death from acute alcohol poisoning.
Sam's parents, Hector Martinez and Jolayne Houtz, wanted to make sure that this kind of painful, avoidable loss would never happen to another family. Inspired by the University of Washington Information School's work to make accurate information more accessible to the public, the Houtz-Martinez family proposed a unique project focused on hazing data transparency.
Through a collaboration between Information School faculty, students and staff, the idea evolved into a Capstone project with two teams and an ambitious goal. By making information about hazing easier to access, Capstone teams Sam's Team and Greeks for Change have been working to increase safety, inform students and families, and prevent future hazing incidents.
The Informatics students' background research, combined with the Houtz-Martinez family's experience, showed that information about hazing incidents is rarely transparent or easily accessible. With their new user-friendly tool, the students aim to change that.
Accurate data on hazing has been difficult to track due to differing state regulations, suppression of hazing stories to avoid negative publicity, and the different forms of hazing and infrequent consequences. Yet this information is vital.
"When my son was looking at fraternities and told me about the fraternity that he was pledging, I did my homework," Houtz said. "I looked online to see what I could find about them, and I didn't find anything of concern." Houtz and Martinez later learned that the fraternity had a history of hazing and other student conduct violations. "If I had known about those things, and other information that we've learned since, we would not have supported Sam to choose that fraternity, and I don't believe Sam would have chosen that fraternity," said Houtz.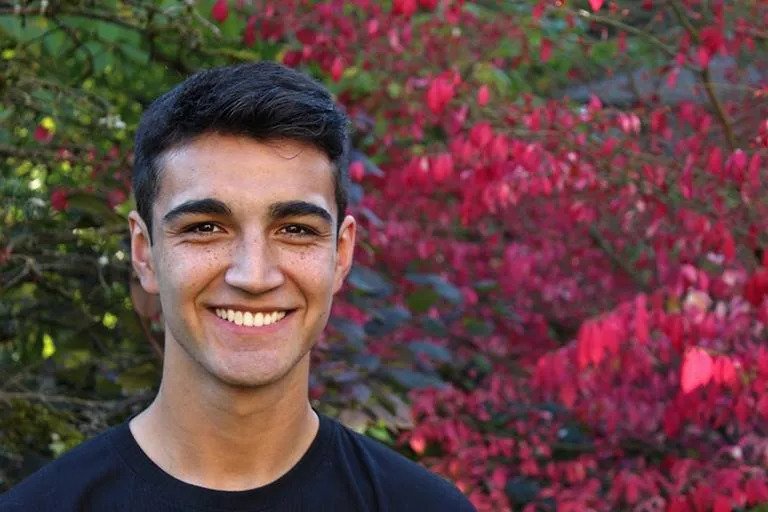 To help prospective Greek life students and their families learn the true story about hazing incidents at universities, the Capstone teams designed a first-of-its-kind database.
"Our team's primary goal is to ensure that students have access to reliable and up-to-date information so that they can make an informed decision about joining Greek life," said Sam's Team team leader Amaya Kejriwal.
Students partnered with StopHazing, a national nonprofit organization focused on hazing research and prevention. The team has also been working with researchers in other states and with Seattle-based company SeaMonster Studios, who are helping to launch, host, and maintain the database. The beta version of the website is viewable as part of the student teams' Capstone project.
The team started with data sets on Washington state and Texas schools, with plans to expand nationally. They built a back end that processes data in real time to give ratings on hazing frequency, severity, and policies so that users can accurately gauge the safety of a campus. The teams want "Greek leadership to have an incentive to change hazing culture, rather than hide it. Our project is not designed to diminish Greek Life, but rather to change its culture so that there are no more cases like Sam's," the students wrote in their project page.
Sam's Team shared that the project was personal for them. Many of the Capstone students were first-year students when Sam Martinez started college in 2019. Pragnath Chintalapati has friends in common with Sam, and Cynthia Chung attended the same high school. Members of the Greeks for Change team said that they are aware of the dangers of hazing, and wanted to be part of a solution that contributes to college students' safety.
The students started with an ideation phase during winter quarter 2023, then designed and launched the website during spring quarter. Team leader Brielle Bush of Greeks for Change said that both teams were working toward the same goal, but initially planned on separate deliverables.
"Midway through the quarter, we realized what we really want to do is combine and put all of our effort into creating one spectacular project. And so that's exactly what we've done," Bush said. Each student contributed to data collection, coding, user research and design; each also took responsibility for their own portion of the project, and they collaborated to bring it across the finish line.
"I am proud of the vision and leadership that the teams demonstrated, especially when it came to managing the communication and collaboration between two Capstone teams and multiple external parties who were involved in the project," said the students' faculty advisor, Assistant Teaching Professor Jeremy Zaretzky.
Jonathan Farias of the Greeks for Change team shared that part of his interest in taking on this project was to help ensure that his friends who are involved in Greek life on campus, including team member Liliana Alvarado Garcia, who is on the Multicultural Greek Council, have a positive experience.
Martinez and Houtz have remained involved in the project, including frequent meetings with the student-led teams. "It's been incredibly inspiring to work alongside them," said Houtz. "Their capabilities are remarkable, and their heart, and their energy that they bring to this work, is truly humbling and inspiring to me. It's been an incredible exchange of ideas. Overall, I've been so impressed by both the students and the level of support that they have within the Information School," Houtz said.
"This project is really impactful, and I'm really glad to be a part of it," said team member Julia Nichols. "It's letting people know what's actually occurring in different states and communities," she said.
The students have carefully considered next steps for the project, and developed a handoff plan. Sam's Team member Cynthia Chung said, "For future Capstone projects, the Martinez-Houtz family will continue to work with the iSchool to discuss new features and identify opportunities for innovation."
"I hope to keep collaborating with groups to accomplish bigger projects, as I've done here at the iSchool," Greeks for Change team member Alvarado Garcia said.
For their part, the Martinez-Houtz family hopes this and other work in Sam's memory makes a difference. "We don't want this to happen to anyone else. We don't want any other families to go through what we're going through," said Hector Martinez.
"My hope is that it brings hazing out of the shadows," Houtz said. "By shining a light on it, and putting information into the hands of college students and their families, I hope that it's going to save a life, to honor Sam by saving a life for the one that was taken from us."
Pictured at top are Informatics students (top row, from left to right) Jonathan Farias, Drew Grimstead, Benjamin Bunyatipanon, (middle row from left to right) Julia Nichols and Pragnath Chintalapati, (bottom row from left to right) Liliana Alvarado Garcia, Amaya Kejriwal, Cynthia Chung, and Brielle Bush. Not pictured: Sid Jayadev.