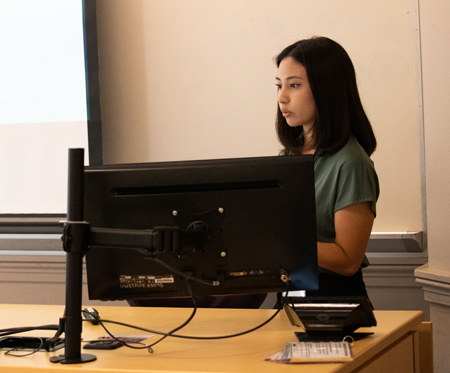 Fifteen Information School students presented their research at the 2023 Undergraduate Research Symposium on May 19. They were among more than 1,000 students participating from across the University of Washington. 
One of the research sessions, on Technology and Society: Privacy, Misinformation, Consent and Transparency, included an oral presentation from senior Informatics student Jasmine Mae Alindayu titled "Examining the Intersection Between Misinformation and the Courts: A Maricopa County Case Study." With iSchool Ph.D. student Stephen Prochaska as one of her mentors, Alindayu was a part of a directed research group (DRG) that investigated the relationship between lawsuits and misinformation on Twitter in Maricopa County, Arizona, during the 2022 midterm elections. 
The same session also featured a presentation from senior Informatics student Lucas Wang titled "Visualizing and Quantifying the Funding Distribution and Impact of the Student Technology Fee at the UW from 2016 to 2022." With guidance from Assistant Professor Mike Teodorescu, Wang assessed the impact of the student technology fee at the UW using summary statistics and topical modeling. 
The symposium included hundreds of poster presentations as well including senior Informatics student Rona Guo, who presented the work of her DRG, "Understanding Perceptions of Water Security by Co-Designing an Online Survey with Akiak Native Community." 
"I'm really grateful for the opportunity to do a DRG in my last year at the iSchool and be able to gain industry and research experience," said Guo. "In my first few years at the iSchool, I had little confidence in my ability to contribute to research, but this experience helped me grow and realize that research is something anyone can do as long as you are passionate and willing to put in the work."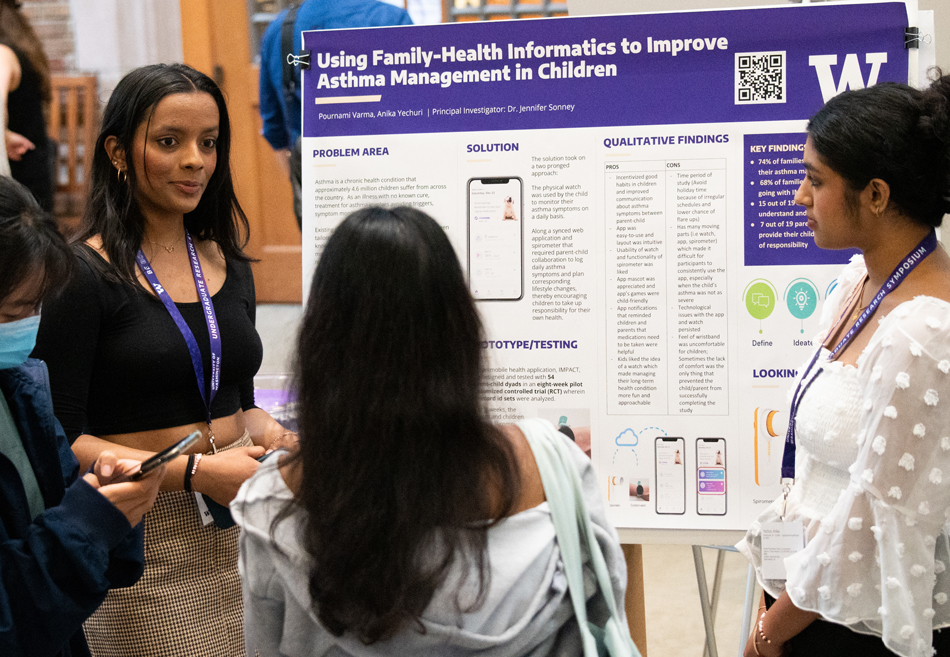 The research symposium also featured the following presentations from Informatics students: 
Carlos Lee Alvarez and Max Bennett, "Citation Information Drift" 
Sheamin Kim, "Analyzing the Effect and Mechanisms of Inhibitory Anti-SARS-CoV-2 Antibodies Against Antibody-mediated Entry Into immune Cells"  
Louis Leng, "YouCred, An Online Tool to Assist Fact-Checkers with Misinformation Discovery and Credibility"
Catherine Lien, "Understanding Egalitarian Trends Among Divorced Simple Fathers' Households" 
Militha Madur, "Exploring the Impact of Neighborhood Disadvantage on Technology Use, Diabetes Management, and Distress among Teens with Type 1 Diabetes"
Grace Avalo Rothmeyer, "the Efficacy of Weight Management Information Dissemination for Black Adolescent Girls: Comparing Messaging from Social Media and Public Health Websites"
Henry Thieme Sanford, "Evaluating Measures of Biodiversity Using Genomics"
Pooja Tharoli, "Exploring Patient-centered Design Solutions for Addressing Implicit Bias in Healthcare Interactions
Pournami Varma, "Using Family Health Informatics to Improve Asthma"
Kelly Zhi Yu Wang and Angel Zhou, "A Natural Language Processing Approach for Measuring the Impacts of Special Interest Groups on Local Policy Making" 
The Undergraduate Research Symposium was organized by the Undergraduate Research Program. The annual event provides an opportunity for undergraduates to share their diverse research interests and experiences with students, faculty and the community. 
Pictured at top: Poster presenter Sheamin Kim speaks to an attendee about "Analyzing the Effect and Mechanisms of Inhibitory Anti-SARS-CoV-2 Antibodies Against Antibody-mediated Entry Into immune Cells."  (Photos by Doug Parry)