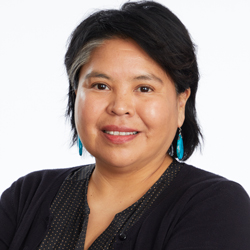 The University of Washington Information School will be a key partner in a new center that will address longstanding environmental and energy justice issues — from legacy pollution to energy security — in Pacific Northwest and Alaska Native communities.
A $12 million, five-year cooperative agreement announced April 17 by the U.S. Environmental Protection Agency (EPA) will create the UW Center for Environmental Health Equity, housed in the Department of Environmental & Occupational Health Sciences (DEOHS) in the School of Public Health.
The iSchool will bring its expertise in Indigenous water justice, data sovereignty and Indigenous research methodologies to the center, which will launch this summer. The center will serve as a hub for technical assistance for tribes and community-based organizations working on environmental justice concerns in four Northwest states — Washington, Oregon, Alaska and Idaho.
The EPA announced the new UW center as one of 17 new Environmental Justice Thriving Communities Technical Assistance Centers around the U.S. Together, the centers will receive a total of more than $177 million to help underserved and overburdened communities across the country access federal funds dedicated to advancing environmental justice. 
"This new program will allow us to better serve the needs of tribes and community partners in the Pacific Northwest to advance their work toward environmental and energy justice," said Edmund Seto, DEOHS associate professor and the new center director.
The new center builds on a significant body of environmental justice research led by DEOHS. It will involve faculty from many existing UW centers and programs that serve Northwest communities, building on their connections, research and expertise to broaden outreach, engagement and services for program participants.
"I am honored to be a part of this commitment to environmental and energy justice," said Clarita Lefthand-Begay (Navajo), an assistant professor in the Information School who will serve as deputy director and lead the center's tribal initiatives. Her research focuses on Indigenous knowledge systems, water security and health equity for Native peoples.
"Through our center, we will strive to empower these communities affected by environmental hazards, promote health equity and foster resilience for future generations," she said.
The Information School has a strong national and global reputation for its expertise in Indigenous systems of knowledge and is currently home to three Native faculty members and eight Indigenous Ph.D. students.
Lefthand-Begay said former Chief Mike Williams (Yup'ik) of the Akiak Native Community and other prominent tribal leaders will be pivotal partners in the center's success. Through their leadership, the center will be able to affirm its commitment to uphold tribal sovereignty and foster self-determination.
Across the Northwest and beyond, some communities bear a disproportionate burden of environmental health risks and have historically been left out of opportunities to access funding and other resources to address them.
The center will help strengthen the capacity and effectiveness of community and tribal partners in applying for and successfully managing federal environmental and energy justice grants and programs. These resources can help address community concerns such as aging infrastructure, environmental pollution, climate change impacts and access to clean energy sources.
The center will be guided by input from two advisory boards representing tribal communities and community-based organizations.
A key objective is to help develop community leaders who can make a lasting impact through their community-level work, Seto said. Many are already leading powerful local initiatives to drive changes in programs and policies to improve environmental justice. The new center will be able to respond to the priorities that each community identifies for itself, he said.
"The idea is to really get these leaders to the table so they can meaningfully engage and to provide the resources to allow them to focus on community needs that they define," Seto said.
Tribal and community-based organizations and academic centers provided letters of support for the new center, including:
The Akiak Native Community.
The Kuskokwim River Intertribal Fish Commission.
Swinomish Indian Tribal Community Education Department.
Northwest Indian College Native Environmental Science Department.
El Centro de la Raza and Beacon Hill Council.
El Proyecto Bienestar.
Front and Centered.
Sound Defense Alliance.