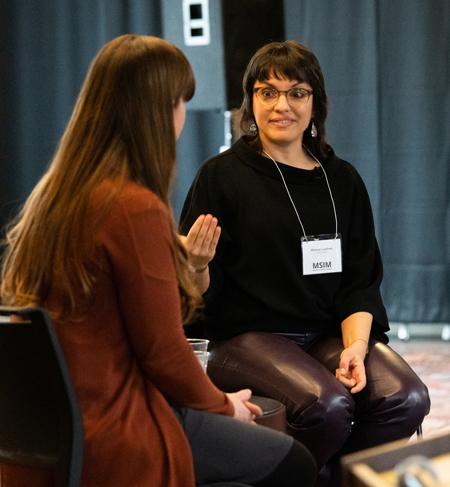 Journalist and author Mónica Guzman's advice for Master of Science in Information Management students: "Where you can, welcome disagreement."
She shared those words with dozens of online students March 17 at the opening keynote of the MSIM Online Student Summit on the University of Washington campus. The event brought dozens of students to campus for two days of workshops and networking with faculty and fellow students.
After the opening evening's session, which also included an address from iSchool Dean Anind Dey, students returned Saturday for a full day of workshops on topics including "How to Set Up a Data, Analytics & AI Strategy" and "How to Overcome Imposter Syndrome" and participated in activities such as a misinformation escape room and a walking tour of Indigenous sites on the UW campus.
It was the first such event for students enrolled in the MSIM program's online modality, which the iSchool launched in 2021. The iSchool offers all the MSIM tracks — Early-Career, Early-Career Accelerated and Mid-Career — in both online and residential formats.
The event's opening keynote was a conversation with Heather Whiteman, assistant teaching professor at the Information School and deputy MSIM program chair. In it, Guzman told students that businesses value employees who are willing to question the consensus. She relayed to them the story of how former General Motors chief executive Alfred P. Sloan once surveyed his management team about a key decision and, when no one disagreed with the consensus, instructed them to return when they developed disagreement so they could have a more productive discussion.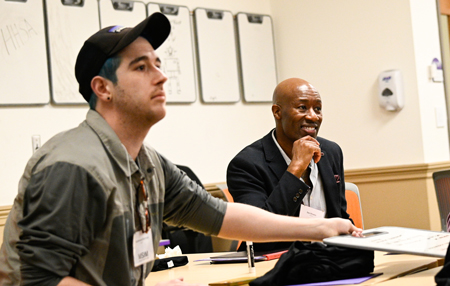 "Business is one of the few places that understand the importance of honest and candid disagreement," said Guzman, a senior fellow at Braver Angels, a grass-roots organization that works to depolarize America. Guzman is the author of "I Never Thought of It That Way," which draws from her personal and career experience in resolving conflicts, and co-founder of the Evergrey, a Seattle newsletter.
Whiteman noted that students would benefit from following Guzman's advice when working on the MSIM program's many team projects.
"You are going to find yourselves having multiple disagreements, and quite frankly if you don't, you might be doing it wrong," Whiteman said. "Your ideas might conflict with one another. It's natural. It's good."