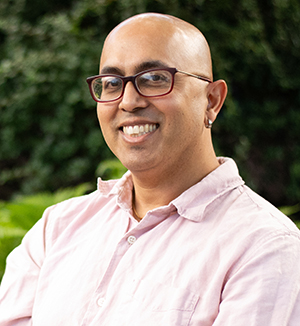 I recently sent my eldest son, Kavi, off to college in Southern California, and these past few months have been an eye-opening experience. I have a newfound appreciation for parents navigating the process of sending their kids off to college. I've seen students make decisions at age 17 or 18 that will affect their entire lives. And as a dean, it's given me a new perspective on the trust that families put in us and on what our school is doing to support a growing number of direct-to-major admits into Informatics.
Kavi's experience made me realize how much has changed since I applied to college. Now, at the UW and other institutions, students are increasingly asked to apply directly to their major of choice. In Informatics and other STEM majors that are in high demand, students benefit from securing their place in their major when they arrive at the UW, and fewer are disappointed later by being denied admission to the major they want. An advantage for the iSchool is that we can use first-year admissions to bring diversity to the school by giving opportunities to students who have different backgrounds and experiences. The downside is that teenagers are under a lot of pressure to make crucial, life-shaping decisions. 
With more direct admits, we have to look at Informatics as a four-year program instead of two. When they start at the UW or any institute of higher learning, younger students need more than academic support. So, we are expanding our efforts to help them get off on the right foot. We are adding advisors to help students acclimate and learn how to navigate the labyrinth of higher education. We are hiring current Informatics students to serve as peer advisors and help our newest students form a community. And each year, we offer a 1-credit orientation course to help new Informatics students succeed. Nearly 100 percent of students admitted into the major graduate with an iSchool degree, and we want to keep it that way.
In the past few years, we've also expanded access to Informatics. In 2014, we admitted 168 students into the major; this year, we will accept more than 300, with plans to admit 600 students per year by 2025. We're giving more opportunities to first-year students, while at the same time providing greater access for transfer students and those who are already at the UW to apply through the traditional process after a couple years of higher education. It's crucial that we continue to provide a path for students who have discovered Informatics during their first two years at the University.
One of the great benefits of higher education, especially at a large institution such as the UW, is the opportunity to explore different subjects and imagine different career paths. With so much pressure on students to get into their desired major, I hope we don't lose track of that. 
I hope that first-year students in any program use their electives and general requirements to learn about themselves and get a well-rounded education. That's what I want for my son, and that's what I want for our students at the iSchool.
Anind K. Dey
Dean and Professor
Fall 2022