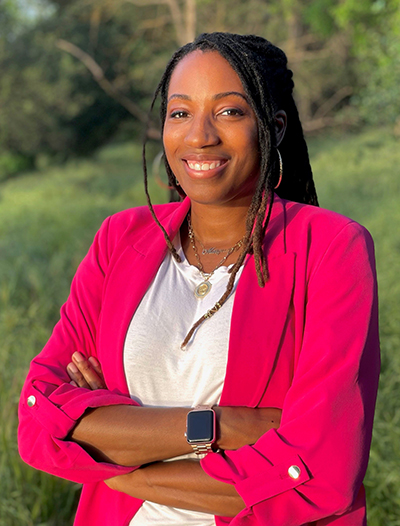 Marquisha Hicks looked to get a promotion at her work. Kalyan Chakraborty wanted to learn more about information management.
These mid-career professionals achieved all they hoped for — and far more — studying in the Master of Science in Information Management (MSIM) program at the University of Washington Information School.
In March, they became the first graduates of the online delivery mode of the program. Hicks completed her coursework from her home in Sacramento, California, while Chakraborty (pictured at top) took classes online from his Redmond home.
"I just feel so much more confident," Hicks said. "I feel like a different person than what I was before I started the program."
Chakraborty said the program goes beyond the technical aspects to really drill down into how "information management plays a role in your regular life."
"Product managers, business analysts and program managers who want to understand how to succeed in a data-driven organization will immensely benefit," Chakraborty said. "It will help them with a better and renewed perspective and knowledge with the support of online learning tools and flexibility."
While the COVID-19 pandemic caused most students to take online classes for more than a year, the MSIM program online was planned for years before the pandemic struck. It is tailored in content and structure specifically to meet the needs of students pursuing their degrees online.
The first class of 23 students started in March 2021. While Hicks and Chakraborty graduated in winter term, both on the Mid-Career track and specializing in Business Intelligence, most of their classmates are scheduled to graduate in spring.
MSIM online has added a new cohort each quarter and has 117 students, said Hala Annabi, the program chair. It's only the second program offered online by the iSchool; a library science master's program has been offered online for years.
The on-campus MSIM program receives 800 applications each year for only 120 spots. The online program can help the iSchool expand capacity, but also reach working professionals or students with family obligations, Annabi said. So far, 68 percent of the online students identify as BIPOC, or Black, Indigenous and people of color.
"We want our students to reach their goals," Annabi said. "All of our students come to the program with different educational backgrounds at very different stages of their careers. What we want to do is create the flexibility and the customizability for them to get what they want."
Hicks and Chakraborty were well into their careers when they joined the MSIM program. Hicks was a software developer for the State of California who has a 9-year-old son, Brodrick, and two grown daughters, Ranaya and Brooklyn. Chakraborty consulted for Starbucks. He and his wife, Priyanka Baloni, have a toddler at home, Ehimaay.
Hicks continued with her job throughout the program. Chakraborty took time away from work to focus on his studies.
Chakraborty had a lot of experience with data and product management, co-founding an e-commerce business in his native India and having consulted with major Fortune 500 companies. He found the MSIM program helped him understand the data-driven decision process in a new light.
"With information management, the goal is to be able to take data and tell the story of that data in a way that people understand it, can grasp it and can make use of it," Chakraborty said.
Hicks had wanted a master's degree to apply for a management position with the State of California. In December 2021, she received the promotion and is now in charge of a unit of 16 employees that manages $4 billion in health care payments in the state.
She had applied for other promotions in the past, but felt the MSIM program gave her the confidence she needed as well as the knowledge on business analytics, risk analysis and enterprise systems to ace the interview.
Hicks already had taken online courses, obtaining her bachelor's degree online a decade ago from the University of Phoenix. She remains close to only one person from that part of her academic career. At the iSchool, she had an entirely different college experience, finding a community and becoming close to many classmates.
One of the program's highlights for Hicks and Chakraborty was a one-credit independent study course taught by Annabi on diversity, equity and inclusion. Hicks looked at how people of color are underrepresented in the technology field. Chakraborty explored the topic of women in technology, especially leadership roles.
In some ways, the class helped shape Chakraborty's outlook for his career. Chakraborty wanted to find a job where the mission of the company aligns with his own personal beliefs. He thinks he's found that. He's set to join Chief, a technology company that works to develop women leaders with peer support, coaching and mentorship.
Hicks is looking at where her career should take her — potentially the private sector or maybe into academia. Whatever path she takes, Hicks intends to serve to provide pathways to technology careers for underserved communities.
Chakraborty lives close enough to the UW campus that he could drive across the Highway 520 bridge to use the library or meet up with faculty members and classmates for discussions and group activities. Hicks will be coming to the campus for the first time in June. She plans to attend the iSchool Convocation on June 4 and the Black Graduation Ceremony on June 9. She's excited to meet her classmates in person.
"We literally talk almost every day," Hicks said. "It could be about family, work or whatever. It's nice to be around like-minded individuals that can understand what you've gone through and understand what you're studying."