"He was my best friend."
"He was super involved."
"We would just chat about anything."
When Scott Barker's former students and TAs talk about the longtime IT director and teaching professor, they all seem to echo the same sentiments. He was always available to talk, always supporting them, always looking out for their best interests.
When Barker passed away unexpectedly on July 23 at age 59, he left a hole in the lives of family, colleagues, friends and students. He also left an enduring stamp on the Information School and the information science field, and a legacy of some 2,000 iSchool alumni whose lives he touched during his 22 years at the University of Washington.
"The University of Washington has the columns. If the iSchool were to have columns, Scott would definitely be one of them," Dean Emeritus Michael Eisenberg said.
Through his roles as an instructor, administrator and, from 2007-18, chair of the Informatics program, Barker had an extraordinary role in shaping the school. He was a key figure from the outset, having been lured west by Eisenberg in 1999 to be part of the transformation from a single librarianship master's program to an interdisciplinary information school. He ensured the school's technology infrastructure was second to none on campus; he advocated for calling it "iSchool" for short — the first of dozens now doing so around the world; and he even had a hand in selecting the school's signature logo.
"He wanted every student to succeed. He wanted every student who wanted to do Informatics to be able to do Informatics. He wanted everyone to feel like they had a place there, no matter what background they were coming from or however they arrived at it."
When he became Informatics chair, the program became his passion. He threw himself into marketing the then-little-known major on campus, putting it on the map for freshman interest groups and UW admissions staff. In short order, awareness jumped, as did the number of applicants. Barker oversaw the program's growth from 35-student cohorts each year to more than 200, even as it turned away hundreds more outstanding applicants. If Barker had his way, though, there would be no limit to the number of Informatics majors on campus.
"He fought for what he believed in, which was increasing enrollment and opening the opportunities up," said Eisenberg, who became one of Barker's closest friends. "Scott truly believed that information is the center of everything and it's relevant to everybody, no matter what they do."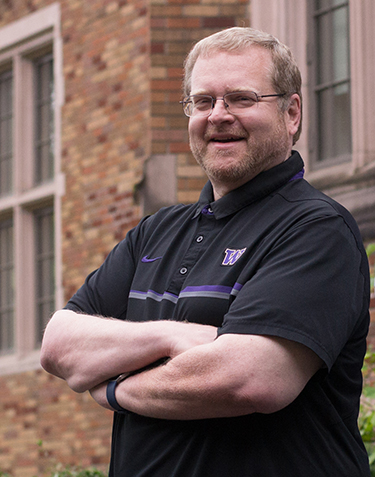 That belief motivated him as he secured resources to grow the Informatics program and animated him when he taught INFO 200, the gateway course to the major. Reserved by nature, Barker became a showman in large lecture halls full of students, turning a dry subject such as IMAP protocols into an object of fascination and using a menacing voice to introduce students to the "DEEP … DARK … WEB."
"He was a champion," iSchool Professor Batya Friedman said. "He wanted every student to succeed. He wanted every student who wanted to do Informatics to be able to do Informatics. He wanted everyone to feel like they had a place there, no matter what background they were coming from or however they arrived at it."
Friedman arrived at the iSchool not long after Barker and was charged with developing the Informatics major. She worked side-by-side with Barker, who brought his technical expertise to the table as they built the curriculum of core courses and electives. He was hooked on the program, its quirky, fun atmosphere and the tight-knit community that he helped foster. When he took over as chair a few years later, he became its leading evangelist.
"I think he really believed that the things that we were offering were the kinds of things that every citizen should be aware of," Friedman said. "It's a kind of fluency and literacy with what this technology was about and how it interacted with society that everybody needed to know."
When his term as program chair ended in 2018, Barker continued to teach and help launch the Informatics minor with Professor Amy Ko, the current chair. Though his administrative role had changed, his passion for the major and the students was as strong as ever. He still learned every student's name; he reached out to many of them unprompted, just to check in; and he responded to instant messages from teaching assistants in the wee hours of the morning.
"He felt like a friend, not really like a boss," said Shane Martin, '20, a TA for Barker from 2018-20. "He would ask me questions about of the blue, like, 'How is your internship going?' Martin said. "He would reach out and check in on me, just at random times. Sometimes at 11:30, sometimes at 2 a.m."
Aside from when his alma mater, Syracuse, took the court for basketball games, there seemed to be no time around the clock when Barker wasn't thinking about the iSchool and its students.
"You feel like he'd been there forever, was super supportive, had a lot of pull with everybody, and really cared about the students."
One year, after realizing that several of his students and TAs had nowhere to go for the holiday while attending school far from home, Barker extended an invitation to come to his home in Snohomish for a traditional holiday meal with all the fixings. It soon became an annual tradition — "Thanksgiving at Scott's," an open invitation to all Informatics students.
Martin took him up on the offer, joining Barker and a handful of students one year. He arrived to find a bevy of snacks and plenty of smart gadgets to entertain guests.
"We played Xbox games with him. It was such a crazy experience," said Martin, who now works as an interaction designer at Intuitive, a surgical-robotics company. "This is a professor at my school, and I'm just at his house for Thanksgiving. This is something that doesn't happen. The meal was pretty good, too."
Barker's connection with students was like something out of fiction, said Ansel Santosa, '13, a senior software engineer at Pioneer Square Labs. He decided to apply to the Informatics program after taking an INFO 200 class taught by Barker and Eisenberg.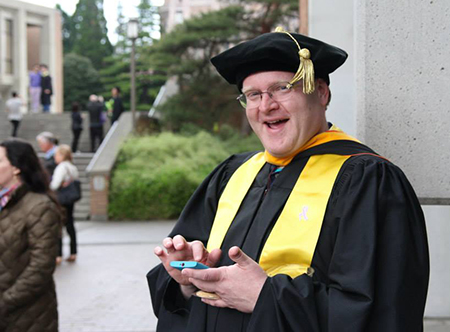 "I feel like he was the Hagrid of the iSchool," Santosa said, likening Barker to students' loyal ally in the Harry Potter series. "You feel like he'd been there forever, was super supportive, had a lot of pull with everybody, and really cared about the students."
That made a big difference to Brenda Obonyo, a senior Informatics major who took INFO 200 with Barker and then participated in a faculty search that he led. When Obonyo was unhappy with a grade in a course with another instructor, she turned to Barker, who called her "best friend." He advised her to advocate for herself when she believes she's in the right, but he also told her that a poor grade wouldn't define her.
"He told me, 'You know, Brenda, no one will ever ask you what grade you got after this. Just remember you are not your grade.' That statement plays a role in my life right now," she said.
Barker's mentorship made such an impression that Santosa, Martin and Obonyo all spoke of their desire to emulate him — his caring, pragmatic approach; his responsiveness; his genuine interest in the lives and well-being of others. They represent just a few of the thousands of people who will carry his example of leadership forward, Friedman said.
"If those students all go out in the world and make a positive difference, that is all a tribute ultimately to Scott," she said. "Then they will help people, and the people they impact. … There is a long tail here. Ripples that Scott has put out into the world."
Visit the iSchool's Scott Barker memorial website to read more and leave your memories in our guestbook. If you wish to make a gift in his memory, consider the Scott Barker Endowed Fund for Excellence in Informatics.