Our dear friend and colleague Scott Barker, Associate Teaching Professor and Director of iSchool IT, passed away unexpectedly on Friday, July 23, 2021.
For over 20 years, Scott has been an integral part of the iSchool community and we are incredibly fortunate to have had the privilege of working with him.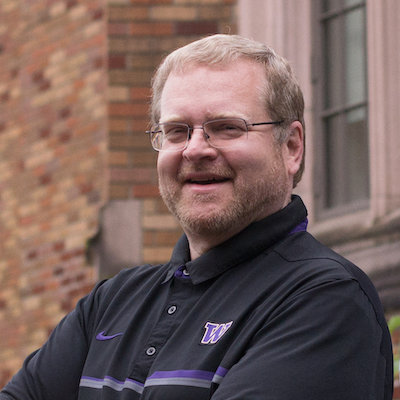 During his tenure, he was a teaching faculty member and head of IT at the iSchool, and from 2006 until 2017, served as chair of the Informatics program. Scott was an outspoken and tireless advocate for the students he taught and worked hard to expand access to our Informatics program. He was generous to all with his time, knowledge and resources.
Scott's passing is an immeasurable loss to the iSchool community, and we will miss him more than words can express. We are creating a memorial website to allow his friends, colleagues and alumni to share their photos and remembrances of Scott, and we will host a public memorial event at a later date. 
We will share information about these opportunities to remember and celebrate Scott's life and legacy on our website and social media channels as details become available.  
Scott was committed and passionate about supporting Informatics students and created an endowed scholarship at the iSchool, which has benefited many students over the years. Those wishing to honor Scott's memory are encouraged to give to the Scott Barker Endowed Fund for Excellence in Informatics, which supports Informatics students who demonstrate academic merit and leadership potential. 
Learn more about Scott and leave your remembrances on our memorial website.
---
We are indebted to Scott for his friendship, student advocacy, and his expertise and passion for all things iSchool.
"Scott lived and breathed Informatics. For over two decades he advocated for, championed, sang praises, architected curriculum, celebrated, and went to battle for Informatics students in a myriad of ways: scholarships, IUGA, WINFO, internships, Capstone, the minor, and more."   -- Batya Friedman, UW iSchool Professor & inaugural chair of the Informatics program
"Scott was a part of everything in the school, our student community, our culture, our embrace of technology, and even the physical space in which we worked. We didn't just lose an incredibly kind, loyal, and passionate person, we lost part of our school."   -- Amy Ko, UW iSchool Professor & Informatics Program Chair
"Scott was one of the founders of the Information School along with me and Harry Bruce in 1998. In fact, he helped coin the term 'iSchool' and picked the logo that we still use today. His dedication to the students, the iSchool, and Informatics was boundless."   -- Mike Eisenberg,  UW iSchool Professor & Dean Emeritus