Read-a-Rama is going national this summer with a pair of online camps designed to engage children with books and spark a love of reading.
Led by Michelle H. Martin, the Beverly Cleary Professor for Children and Youth Services at the University of Washington Information School, Read-a-Rama is a nonprofit that uses children's books as a springboard for other activities such as singing, movement, hands-on crafts, STEM activities and games. It offers camps and storytimes year-round and immersive weeklong camps each summer.
This summer's camps are "Cooking Up a Storm," on the theme of food and weather, Aug. 9-12; and "Tunes & Tales," centered around music and storytelling, Aug. 23-26. Both will take place online, allowing kids to attend from anywhere. Registration is open for the camps, which are limited to 30 kids per session, with sessions offered in the morning and afternoon. The cost is $75 per week per child, with scholarships available to those in need.
Before the arrival of the COVID-19 pandemic in March 2020, Read-a-Rama activities took place entirely in-person. After experimenting for more than a year, Martin sees some advantages in an online format, where the camps can serve more kids but still use breakout rooms to give them individual attention.
"Oftentimes it's easier to integrate families this way," Martin said. "When they go to school, Mom and Dad don't come with them. If they're in their living room, you see what Grandma's doing, you see what little brother's doing. The family engagement has increased, and that's always been a focus of Read-a-Rama."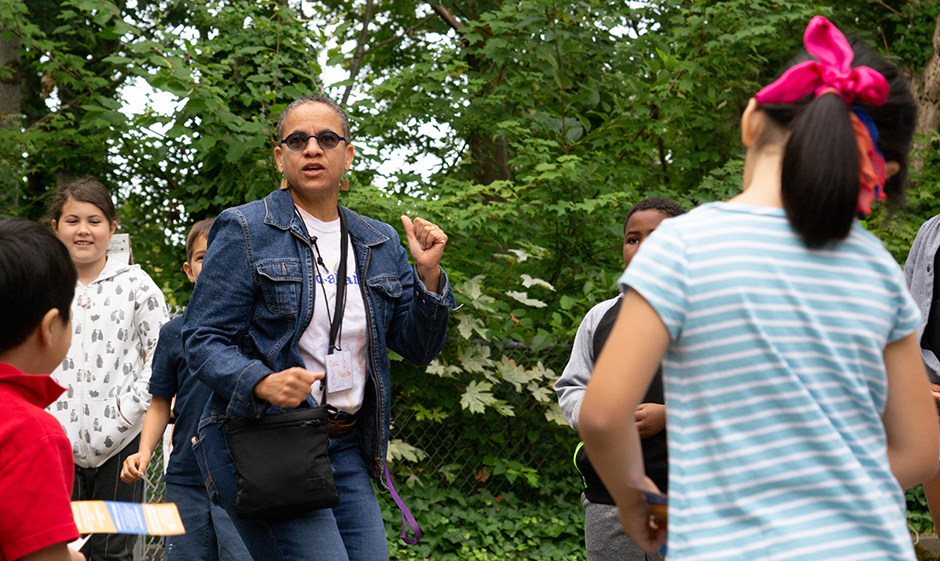 She's also found ways to keep the camps engaging and keep the spirit of hands-on play, sending boxes full of books and materials for playtime to camp participants. Kids have dubbed them "Rama Boxes."
"What's the same is that our mantra has always been 100 percent engagement, 100 percent of the time, because dead time will kill your program," Martin said. "That engagement piece is always top of mind and always the goal of the program, and that is still happening in a real way."
The move online doesn't mean the end of in-person camps. In between this summer's camps, Martin will run a daylong outdoor, in-person camp with Compass Housing Alliance in Seattle for children who have experienced homelessness.
iSchool Master of Library and Information Science students have been instrumental to putting on Read-a-Rama programming during the pandemic, Martin said. MLIS students Molly Benson, Jennifer Ching, Jayne Lee and Valerie Peacock organized and led storytimes and weekend e-camps, earning credit for directed fieldwork projects. Students Jennifer DeBaun-Holm, Sydney Geyer and Jennifer Haakenson are planning and staffing the camps, participating in research, and building programming for fall.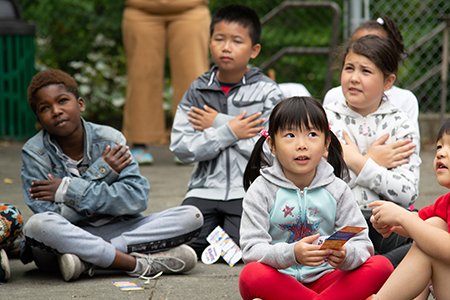 Martin started Read-a-Rama as service learning for her students in 2001, and colleague Rachelle Washington launched Read-a-Rama with Martin in 2009 while both were on the faculty of Clemson University in South Carolina. Martin continued the summer camps while on the faculty at the University of South Carolina, then brought them with her to the Seattle area when she arrived at the iSchool in 2016. Martin said she's inspired by the stories and photos families share with her after participating in the programs.
"I hear about it when the parents talk about the way that kids have taken a little more ownership in their learning and insisting on reading together at night or wanting to go to the library," she said. "I think that increased enthusiasm for literacy, literature, story, books — all of that tells me that something in that secret sauce is working well for getting them engaged.
"I'm confident that since 2001, thousands of kids have been impacted by Read-a-Rama as well as thousands of education, English and library science students and professionals. In time, we hope to make Read-a-Rama the go-to program for full-engagement literacy programming in the U.S. — one child and one book at a time."