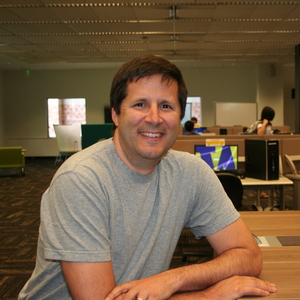 About 400 miles from Bogota, the capital city of Colombia, an expanse of mountainous rainforest known as the Colombian Vaupés is home to the Cubeo Indigenous People. The land, which is part of the Amazon Basin, preserves a rich knowledge system that is integral to protecting the Vaupés' ecosystem. 
But today, the Colombian Vaupés is in danger – governments and multinational corporations are mining the region's natural resources, damaging the habitat and livelihood of the Cubeo people.
Ricardo Gomez, an associate professor at the Information School, was recently awarded a Fulbright Scholar Fellowship for research intended to help protect the culture and rainforest in the Colombian Vaupés. This project, co-sponsored by Icetex Colombia and done in partnership with Cinep and Oxfam Colombia's Pan-Amazon Initiative, aims to protect and amplify Indigenous culture in the Amazon Basin.
"I'm very honored to be receiving the award and also have the resources to do the project," Gomez said.
Gomez will use participatory photography to learn about the life and culture of the Cubeo Indigenous people. This method asks participants to take photos of objects and discuss why they are meaningful to them.
"When people talk about the picture, it's easier to talk about their hopes, aspirations, dreams and fears," Gomez said. "The picture externalizes the experience, and that allows you to speak about it in more depth and with more clarity."
Gomez specifically chose this method because he wants the Cubeo people to speak authentically and "comfortably" about their experiences.
"Participatory photography allows me to use storytelling to help render the experiences and worldviews of these communities," Gomez said.
The Fulbright Scholar Fellowship is awarded to scholars who will live and conduct field research in a country outside the United States. Gomez plans to travel to Colombia in October 2021 and will conduct several field visits to the Cubeo territory near Mitú, the capital of the Vaupés region. He postponed his trip from August 2021 due to COVID-19 travel restrictions and the escalating violence in Colombia. 
Gomez is currently working remotely with Oxfam and the Association of Traditional Indigenous Authorities of the Mid-Vaupés to plan the research. This includes documenting the experiences of Indigenous people, helping them use technology tools, and building trust with the community.
Gomez is hopeful that the research will shed light on the rich culture of the Cubeo people and their method of protecting the Amazon Basin. These insights would then help international organizations find humanitarian approaches that address local needs and utilize local knowledge.
"The Amazon region is the lifeblood and home of these communities," Gomez said. "Traditionally, they have not been heard or included in the development plans that affect their own region."