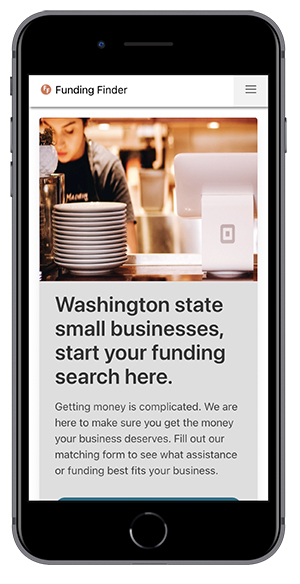 Like many others, junior Informatics student Lauren Ng watched some of her favorite restaurants close forever during the COVID-19 pandemic. 
Those and other small businesses struggled to cover the sudden revenue loss that stemmed from weeks of closure and public health guidelines restricting indoor capacity. Even after their doors reopened, the crowds may not return enough to recoup those losses. 
Federal funding through the Paycheck Protection Program, administered through banks, helped some but not all who needed money to stay open. 
It was an obvious and stark problem for the Washington State Department of Commerce. 
"We were seeing during COVID a lot of small businesses, especially the underserved, struggling to stay in business or pivot and grow their business," said Sarah Lee, Gov. Jay Inslee's advanced manufacturing sector lead at Commerce. "A lot of small and medium-sized businesses are busy running their business." 
With the solution to bridge that gap between funding and businesses proving elusive, Commerce turned to a Capstone project team from the UW Information School for help. 
"What we asked them to do was come up with an app, something that was accessible via a mobile app because a lot of these folks don't have access to broadband, and make it easier to find funding," Lee said. "I was just looking to them for their research, their fresh ideas, their understanding of what was possible." 
iSchool Capstone project Team kala (an acronym from the first letters of Informatics students Kelson Flint, Abigail Quinsay, Lauren Ng and Angel McCrary-Lupson) chose Commerce's proposal to build a mobile responsive site that connected small business owners with funding opportunities. 
The students' idea: make it similar to sites that match students with scholarships based on eligibility criteria and the student's profile. An alliterative name stuck with them: Funding Finder. 
"I want to do something that has real-world impact and lives beyond however much time I'm working on it," Quinsay said.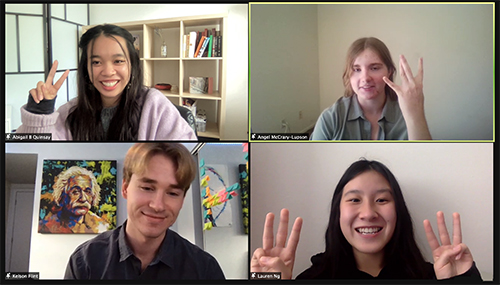 For McCrary-Lupson, whose father owns a photography business in Las Vegas, the need was clear. She became further focused after virtual meetings with small business owners across Washington state. 
"Business owners don't either have the 'formal education' sometimes because they're so small and mom-and-pop type things, or the financial literacy on their own, plus they have to manage their business," she said. 
McCrary-Lupson and Ng worked as front-end engineers, Quinsay was a designer and project manager, and Flint was the back-end developer and worked on a separate content management site for Commerce to update opportunities for Funding Finder. 
Together they crafted a site with lots of white space, few buttons, and sparse language to focus users on the financial literacy library and the funding search tool. 
But they also learned that their own tech savvy wasn't shared as broadly among those who could benefit from Funding Finder. Input from small business owners, including a focus group of Native American tribal members, guided some of the functions and language. For example, Team kala's initial design for the back and forward arrows were stylized "<" and ">" until some of the test users told them it was confusing. They returned to the classic arrow symbol. 
"I haven't done too many projects that involve really thinking about user experience from the case of someone who's not technically adept," McCrary-Lupson said. 
Funding Finder had to be easily updated as well. Through their research, the Capstone team learned the application windows for small business grants and loans can be as short as one week. 
The need to save time applied to the site design itself, which is why they kept the language sparse on the main page. 
"These businesses don't have all day to read our paragraphs," Ng said. 
Team kala was preparing all of their work and documentation for a handoff to Commerce, which wanted to add features such as user profiles, a widget with automated responses, and updated funding opportunities. Eventually, Commerce intends to introduce Funding Finder to trusted community groups, especially in marginalized and underserved communities, that can assist and vouch for the site.  
"Not only am I impressed, Commerce is impressed, and our partners are impressed," Lee said. "They're amazing, they're exceptionally good with client service, they did thorough research, they made sure everybody who worked with them felt heard and responded to. That is impressive." 
View the team's project poster and video, and join us May 27 to learn about many of this year's Capstone projects.