When Brynn Strader (pictured above) went on job interviews as she finished her Master of Library and Information Science (MLIS) degree, employers asked about her hands-on experience. 
She had a go-to answer. "I would immediately talk about my Capstone and what I specifically focused on in my MLIS degree," she said. 
A Capstone project is a graduation requirement for many iSchool students that immerses them in real-world information challenges. Students draw upon everything they've learned in their classes to develop an actionable solution, and are able to use this experience to market themselves in job interviews.
For her Capstone project, Strader worked with Traci Timmons, senior librarian at the Seattle Art Museum (SAM), to create a digital collection of photos and archival materials from the Northwest Annual Art Exhibition. The exhibition, which SAM hosted from 1914 to 1977, helped launch the careers of many Northwest artists.
Strader digitized exhibition checklists and photographs that documented the yearly event. She used Photoshop to retouch the images, created metadata to describe the digital objects, and then published the digital collection to SAM's website.
"Having extreme attention to detail was essential for the work that I did," she said.
Strader talked to local experts in Northwest art who provided more information about the history of the exhibitions. "I interviewed David Martin, who's been involved with Northwest art for decades, and Tore Hoven, who has been working at SAM since the '60s," she said.
When Strader completed her Capstone, she immediately highlighted the work on the "Featured" section at the top of her LinkedIn profile. She wasn't sure how much weight the project carried in helping her land a job, but she was certain that having a finished project gave her an edge in her application.
A few months after graduating in June 2020, Strader was offered a contract job as a catalog specialist at OfferUp.
Strader said that the Capstone experience demonstrated more than her professional skills — it was a culmination of her passion for art and information.
"I was personally interested in this project because I've always loved art," Strader said. "I'm extremely happy with how it turned out. Getting the opportunity to do my Capstone with the Seattle Art Museum was perfect."
Keeping employers interested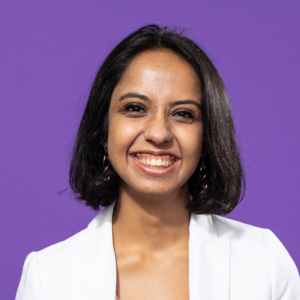 Simran Bhatia chose a different path for her Informatics Capstone. She conducted a faculty-sponsored research project with Associate Professor Hala Annabi and iSchool Ph.D. candidate Mina Tari, investigating what women think about women affinity groups in the tech industry.
When gathering results, Bhatia organized a focus group and conducted interviews with women in the workforce, an experience that took her research skills a step further than typical coursework. "It helped me build skills in the domain of industry and research, which I would not have built in class projects," she said.
As Bhatia looked for full-time jobs while she completed her Capstone, she was quick to use her project as a conversation topic in job interviews. 
In one conversation, Bhatia captured the attention of a hiring manager. "The manager was really curious about the results of the study because it's such a relatable topic in the industry right now," she said.
A few recruiters even asked Bhatia to send over the research paper personally. They told her that they wanted to know how their team could implement the insights in their current work environment.
"Almost all employers are concerned about this diversity topic," Bhatia said. "A lot of time and resources go into women affinity groups, but there is no success metric associated with it. This Capstone showed that gap and targeted to find the real pain points of this diversity practice."
In June 2020, Bhatia earned a Bachelor of Science in Informatics, specializing in Data Science, with a minor in Statistics. She secured a position as a business intelligence analyst at Accolade after graduation. 
The skills she learned from doing the Capstone translated directly to her full-time job. The soft skills she applied – building relationships with interviewees and leading a project to fruition – made her stand out from a typical data science candidate.
"The leadership and project management skills definitely translate to my current role," Bhatia said. "I feel confident leading a project because I've done that in the past. It's not a new thing."
From Capstone to consulting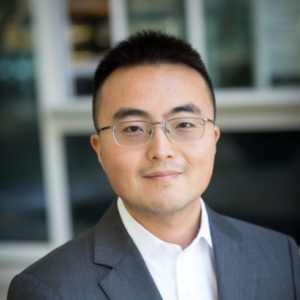 After completing an undergraduate degree in Electrical Engineering in 2010, Zeyu Zhang decided to pursue a Master of Science in Information Management (MSIM) because he aspired for a career "somewhere between business and technology."
When he started his Capstone project, he played a role that helped him build his workplace skills. Zhang was responsible for interviewing stakeholders at Microsoft and the iSchool Advancement Department, and understanding the needs of each organization. 
Since his team had to produce a research proposal, he had to present the information clearly and concisely, bridging the communication gap between Microsoft and the iSchool.
"Even between UW and Microsoft, they didn't know who's talking to whom," Zhang said. "[The research] helped the two organizations think and plan new initiatives between the two organizations."
Even though Zhang secured a full-time job before starting the Capstone, the skills he learned helped him transition smoothly into his career. After graduating in 2012, he worked at Deloitte Consulting for six years, then moved on to VinAudit, a Kirkland-based startup.
"When I became a consultant at Deloitte, I needed to prepare myself to talk with clients, to get their requirements and understand what they needed," Zhang said.
The Capstone project helped Zhang build his communication skills, resolving conflicts and keeping the team focused on the timeline. His teammates informally called him the "integrator" since he always negotiated between the other two members. 
"Looking back, I think there were ways we could have done better," Zhang said, chuckling. "But regardless, I got meaningful skills and experience in my Capstone."
Pictured at top: Brynn Strader at Volunteer Park in Seattle. Photo by Doug Parry.