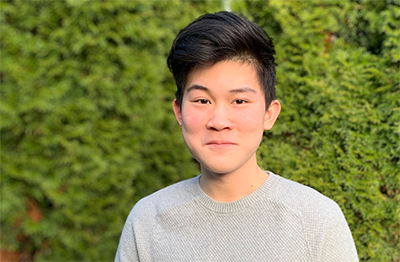 Daniel Chen, a junior double-majoring in Informatics and Microbiology at the University of Washington, recently was named a 2021 Goldwater Scholar. Chen is one of 410 undergraduate students selected for the award from a pool of 1,256 students nominated by 438 institutions across the country.
The scholarships are granted to sophomores and juniors who show exceptional promise and plan to pursue research careers in math, engineering or the natural sciences. These scholarships award up to $7,500 a year to help cover costs associated with tuition, mandatory fees, books, room and board. 
"I am honored to receive the Barry Goldwater Scholarship," Chen said. "It is a valuable step toward my goals that recognizes my research efforts as well as the amazing support from my mentors, Dr. Yapeng Su and Professor Jim Heath, and community."
Chen's interest in challenging himself can be seen through his academic choices: In addition to majoring in two disciplines, he is pursuing departmental honors in microbiology. Chen has previously been awarded the Levinson Emerging Scholars award and the Mary Gates Research Scholarship, and is also listed on the annual Dean's List. 
He began his college path early, entering the UW after middle school through the Early Entrance Program. To balance out his rigorous academic and research work, Chen enjoys hiking in nature preserves and crocheting amigurumi animals, hobbies that suit the environment of his hometown of Sammamish, Washington. 
"This news is simply wonderful," said Undergraduate Academic Affairs Vice Provost and Dean Ed Taylor. "Through his involvement in undergraduate research, Daniel has shown a dedication to furthering science and understanding as well as to the purpose of making people's lives better. As a University community, we couldn't be more proud of him. I extend my warmest congratulations to Daniel as well as his faculty mentors and others who have supported him on his journey so far."
Chen currently conducts research under Su and Heath in the Heath Lab at the Institute for Systems Biology. His current projects have continued to push and develop his passion for biomedical informatics, particularly when applied to clinically relevant problems.
"Majoring in Informatics provides me with an exceptional blend of strong technical rigor and robust ethical skills to ensure fair data usage and execute complex bioinformatic analyses in my current research and beyond," Chen said.
After his undergraduate studies, Chen intends to pursue an M.D.-Ph.D. centered on leveraging computational resources and advances to solve human medical challenges such as cancer and infectious diseases. He particularly looks forward to identifying best practices and applications for such research to develop more accessible medical solutions for the given problem. He eventually hopes to pursue a faculty position at a university to conduct translational research in biomedical-informatics oriented fields.
A version of this story originally appeared on the UW Undergraduate Academic Affairs website.