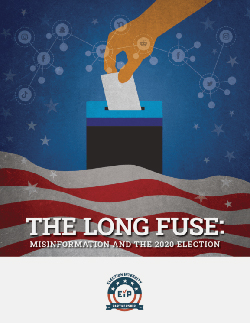 The Election Integrity Partnership (EIP), a nonpartisan coalition of researchers that identified, tracked and responded to voting-related mis- and disinformation during the 2020 U.S. elections, released its final report, "The Long Fuse: Misinformation and the 2020 Election," on March 2. The final report is the culmination of months of collaboration among approximately 120 people working across four organizations: Stanford Internet Observatory (SIO), the University of Washington iSchool-based Center for an Informed Public (CIP), Graphika and the Atlantic Council's Digital Forensic Research Lab (DFRLab).
Over the course of its work, EIP focused on voting-related misinformation and the delegitimization of election results. Its primary goals were to: (1) identify mis- and disinformation before it went viral and during viral outbreaks; (2) share clear, accurate counter messaging; and (3) increase understanding of the dynamics shaping the information space during the 2020 election and its aftermath. 
The EIP's "Long Fuse" final report expands upon the coalition's rapid-response research and policy analysis surrounding the November 2020 U.S. election and details how misleading narratives and false claims about voting coalesced into the metanarrative of a "stolen election," which propelled the Jan. 6, 2021, insurrection at the U.S. Capitol. 
The EIP's final report also includes a set of policy recommendations and insights about how the coalition of researchers carried out their work and how this model may be expanded to combat future large-scale misinformation events. 
Among key findings: 
Misleading and false claims and narratives coalesced into the metanarrative of a "stolen election," which later propelled the Jan. 6, 2021, insurrection. 
Narrative spread was cross-platform: repeat spreaders leveraged the specific features of each platform for maximum amplification. 
The primary repeat spreaders of false and misleading narratives were verified, blue-check accounts belonging to partisan media outlets, social media influencers and political figures, including President Trump and his family.
Many platforms expanded their election-related policies during the 2020 election cycle. However, application of moderation policies was inconsistent or unclear.
The report includes chapters that examine how mis- and disinformation shaped social media narratives around mail-dumping incidents in Glendale and Sonoma County, California and Greenville, Wisconsin, as well as closer looks at #Sharpiegate and #StopTheSteal narratives, non-English mis- and disinformation, and election-related violence.
View the Election Integrity Partnership report.
Read the full story on the Center for an Informed Public's website.