Countless hours and billions of dollars go into academic research each year. The product of all that time and money often lands behind paywalls or in expensive journals that collect dust on library shelves.
It's a system that values prestige and exclusivity over openness and transparency. Ashley Farley's job is all about changing that.
As the program manager of knowledge and research at the Bill & Melinda Gates Foundation, Farley is part coach, part traffic cop, ensuring that all Gates-funded research is freely available to the public. She is the lead advocate for the Gates' open access policy, which requires unrestricted access to all research funded by the organization. She oversees a $6 million annual budget that she uses to advocate for open access, ensure that researchers understand and adhere to the policy, and build tools to help them disseminate their work.
In addition to setting policy for the Gates Foundation, Farley frequently gives presentations about open access and is an outspoken advocate for it on Twitter. She sees herself as an educator and motivator, extolling the benefits of publishing research openly.
"I never imagined such a job could exist," she said. "Through librarianship that I would have ended up at a global nonprofit, talking about open access in publishing day in, day out, but it's been really great."
"So much public and private funding pays for the research to be done, to have it then placed behind a paywall, I don't think there's a real justification for that."
As an online student in the Master of Library and Information Science program at the Information School, Farley landed a job as a student research assistant. That experience opened doors at the Gates Foundation, where she got an internship that gave her a deep dive into how the research publishing system works. She saw that an open-access movement had been burgeoning for 30 years but was only making slow progress.
"When I started working on it for the internship, it was instant," she said. "I've been pretty much obsessed with it since then."
Farley stayed on full-time at the Gates Foundation after graduating in 2017. She approaches her work there from a librarian's perspective, with a fundamental belief that knowledge should be a public good and that communities should have access to the information they need to improve people's lives.
"There's definitely a lot of equity issues around open access," she said. "It's a morally good thing to do. So much public and private funding pays for the research to be done, to have it then placed behind a paywall, I don't think there's a real justification for that."
For decades, publishers have reaped the rewards of a system that restricts access. Funders (some supported by taxpayers) pay for the research, researchers write papers and conduct the peer-review process, then give their work to publishers free of charge. Journal publishers judge whether the work meets their standards, then package it and sell it to government-funded public and academic libraries at a handsome profit. For example, the publishing giant Elsevier made a reported $1.3 billion in profit in 2019 on just over $3.5 billion in revenue, for a healthy 37 percent profit margin.
The tenure system rewards those who publish in prestigious journals, making exclusivity part of their appeal. But only a small fraction of research makes the top journals while most goes unread and uncited. The cost also creates a barrier, especially in poorer countries, exacerbating inequity in who participates in and benefits from research.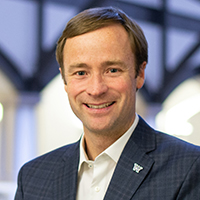 "The majority of research at any major university is funded by taxpayers," said Associate Professor Jevin West, who has done extensive research on scholarly publishing and advised Farley on her iSchool Capstone project. "When that research is published in non-open-access journals, the public can't even get access to the research that they're funding. That's wrong."
West noted that many journals are recognizing that they need to evolve and moving at least partway toward open-access models, and he credits the Gates Foundation's influence for that.
"The work that they're doing at the Gates Foundation is really setting the path for other philanthropic organizations and for science more generally," West said. "We're still not far enough along, but it's moving in the right direction, and a lot of it's being driven by what's happening at Gates. Ashley is a leading voice on that."
One of the tenets of Gates' open-access policy is a requirement that not only are papers made freely available, but the underlying data behind the research must also be shared. Professor Carole Palmer, the iSchool's associate dean for research, said Gates' policy goes a long way toward creating an expectation in the research community that data is a shareable resource.
"It's a big culture change," said Palmer, who co-leads the iSchool's Open Data Literacy initiative with Assistant Professor Nic Weber. "A new generation of researchers is coming into the field understanding that the expectation is that data will be an asset that won't be just yours. It's for the greater good of research that it can be integrated and reused in ways that might be very powerful."
While publishers have been slow to change, there are clear signs that open access is the wave of the future. In the past few years, several universities have balked at high subscription prices; among them is the University of California system, which ended its $10 million annual contract with Elsevier in 2019 and last year announced an open-access agreement with Nature. A growing number of universities have created institutional repositories for disseminating scholarly work, including the University of Washington's ResearchWorks.
Through her work at Gates, Farley helps researchers publish openly in venues such as Gates Open Research, a platform for all research funded by the organization. The platform adds transparency by showing how a paper evolves through peer review and keeping a record of what gets changed and when.
"It's a fully open, post-publication peer-reviewed journal," she said. "That's how the future of publishing will look."
As someone who spends every day evangelizing for open access, Farley is encouraged by what she's seeing. A new generation of researchers and librarians has arrived, bringing with them an expectation of openness.
"We're no longer having conversations about, 'Should we have open access?'" she said. "It's like, 'Yes, that's needed, so how do we get there?' That's shifted the conversation."
Pictured at top: Ashley Farley staffs an information booth about open access, pre-pandemic.