UW Information School Professor Jacob O. Wobbrock recently won a $60,000 Google Inclusion Award to support his work in creating an Ability-Based Mobile Toolkit. The toolkit would help programmers build applications that are more aware of and responsive to a user's abilities.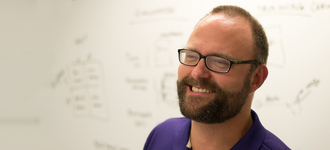 "Right now, your phone knows very little about your abilities," Wobbrock said. "It's designed in a way that makes many ability assumptions… People with certain disabilities don't always match the ability assumptions of the technology."
As a professor of Human-Computer Interaction (HCI), Wobbrock has a long history of creating interactive technology for people with disabilities. He invented Slide Rule, a series of "finger-driven" screen-reading techniques that help people who are blind use mobile touchscreens. Since its publication in 2008, Slide Rule has influenced the modern screen reader in Apple and Android products.
Wobbrock is also the co-director of CREATE, the Center for Research and Education on Accessible Technology and Experiences. Founded last spring, CREATE brings together expertise from across the UW to improve how technology works for people with disabilities.
In his current research, Wobbrock is looking beyond touch and gesture to other ways to make technology more responsive to a user's abilities. Backed by this grant, he wants to model the user's attention and physical activities to help devices adapt based on what the user is doing. Since many people use technology on the go, mobile devices need to be aware of a user's environment, such as ambient noise, lighting, or temperature or changes in traffic or terrain.
The toolkit would also reinvent how users approach accessibility. Instead of asking users to configure devices for themselves – like going to the settings menu and checking accessibility features – devices would customize their settings based on the observed abilities of their users, such as their accuracy, stability and consistency of the user's touch.
"We want to put the burden on the technology, not the user," Wobbrock said. "The technology can sense and model the user's abilities and respond accordingly."
Wobbrock, who has had successes in designing accessibility tools, wants the toolkit to be an open-source archive of his work – an archive that not only empowers developers to build accessible products but also evolves to meet the demands of modern technology.
"Most developers aren't reading research papers or doing research projects," he said. "If this is a toolkit they can use, it begins to put these ideas into many more applications."
Numerous toolkits in the HCI field address accessibility but none are designed for developers to improve app accessibility, Wobbrock wrote in his grant proposal. His toolkit aims to fill in this gap.
The grant will be used to compensate participants, purchase materials and services, and support iSchool Ph.D. student Judy Kong and Computer Science Ph.D. student Mingyuan (Jason) Zhong, who will interview developers from software companies as they conduct their research.
"The pandemic has really emphasized how reliant we all are on technology for staying in touch with family members and friends, for educational and job opportunities, for entertainment, and for exercising full participation in society," Wobbrock said. "There's no question that having accessible technology is a vital thing for many people."