When the Computing Research Association announced its recipients for the 2021 Outstanding Undergraduate Researcher Awards, two iSchool students were excited to see their names among the honorable mentions.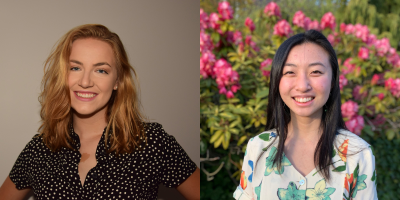 The iSchool nominees, Emily Bascom and Jenny Liang, faced a competitive group of students who have been involved in multiple research projects and professional positions as interns, volunteers or teaching assistants — or all of the above.
Bascom, a junior pursuing the Human-Computer Interaction (HCI) track in Informatics, is involved in two projects that are making a difference in the Seattle community. Her first project works with Seattle Children's Hospital to support pediatric transplant patients and their families.  
For her second project, Bascom is the team lead for "DogPaws" where she is developing a platform that facilitates online communities between students, faculty and alumni at the UW. She hopes to help people overcome the so-called Seattle Freeze by connecting students with resources they need.
Originally from Albany, New York, Bascom struggled to make connections with the UW community. She luckily connected with Julia Dunbar, who was starting a Ph.D. program at the iSchool, via two professors at a local college.
"Little did I know, that small networking opportunity became extremely impactful for my career and success here at UW," Bascom said. "Julia and I have since worked on several projects together, which is largely why I am where I am today."
Liang, a senior pursuing a double major in Computer Science (CS) and Informatics, initially wanted to become a professional software engineer, having completed six internships at Microsoft, Apple and Uber. But after joining the Information and Communication Technology for Development Lab of the Paul G. Allen School of Computer Science & Engineering, she realized her passion for academia grew stronger.
"I found that I had a lot of questions about the software engineering process itself and wanted to learn more about it through research," she said.
Liang is currently working with Informatics Program Chair Amy Ko in the Code & Cognition Lab on research that enables novice programmers to be more aware of their computing processes. Ko, who won the same award in 1998, was astounded by Liang's remarkable drive.
"When I first met Jenny in 2019, her ambition was exceptionally clear: she wanted no less than to advance HCI, software engineering, ​and​ natural language processing as an undergraduate, pursue a Ph.D. at a top CS department, and become a professor like me," Ko said. "Most students don't come with this level of ambition, nor the ability to follow through on it."
In 2020, Liang was named one of the Husky 100 for her ambition to create technological impact with compassion.
The Computing Research Association award program recognizes undergraduate students in North American colleges and universities who show outstanding research potential in an area of computing research. Its winners this year also include three other UW students, all in the Allen School. They include top awardee Joy He-Yueya, runner-up Ximing Gloria Lu and finalist Parker Ruth.