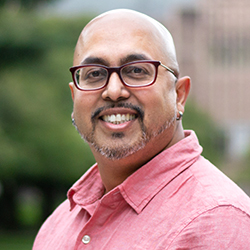 We've just been through a contentious election season in a difficult year, full of hardship for far too many people. When we emerge from our current crises, we have to envision a better future — and how our work can help take us there.
COVID-19 and the social unrest of 2020 have underscored the importance of being nimble and doing work that addresses real-world problems. That's exactly what I love about the iSchool. We adapt quickly, and our work translates to tangible results. To cite just a few examples: The Center for an Informed Public, led by Associate Professor Jevin West, is focusing on disinformation campaigns and the potential for intervention through public library programming and digital literacy education; and Associate Professor Chirag Shah's InfoSeeking Lab is showing how search engines allow misinformation to spread. The iMed research group, led by Professor Wanda Pratt, is focusing on ways to improve doctor-patient communication and prevent medical errors. And a new justice-focused computer science teaching endorsement, which Professor Amy Ko is developing with the College of Education and the Allen School, will train teachers in a vital aspect of technology instruction that's too often ignored.
Through our teaching and outreach, the iSchool is educating information professionals to lead where institutions such as government and media have failed. We don't want to be the fact checkers for the world, but we do want our alumni to know how to sort facts from deceptions, how to design technologies that are good for people's well-being, and how to use information as a tool for social justice.
As we've confronted racial injustice and hostile immigration policies this year, it's been inspiring to watch the iSchool come together to support underrepresented people and international students in our community. But it's not enough just to voice our support; we need to back it with our actions. Our staff and faculty have gone the extra mile to help international students continue their studies here. Meanwhile, our LIS faculty, led by program chair and Professor Michelle H. Martin, made significant updates to course content to double down on our commitment to diversity, equity and inclusion. We are starting to see more of the same across the iSchool.
When 2020 ends (and I promise it will), we'll still face the urgent issues of systemic racism, climate change, threats to democracy, the ongoing COVID-19 crisis and other public health challenges. These are all information problems, at least in part, and addressing them will require the combined expertise of the extended UW community. Because the iSchool attracts scholars from so many disciplines, we are uniquely positioned to lead the UW's interdisciplinary efforts. In some initiatives, such as the Center for an Informed Public, we are leading through research and outreach; in others, such as the University's Population Health Initiative, we are leading by being willing partners and bringing people together.
This year, we've had to learn a new way to live. We've been challenged by demands for racial justice and bombarded with misinformation. Our mission at the iSchool has never been more urgent, and the need for information professionals has never been more pronounced. People are looking to us to lead. Now is the time to grab that mantle.
Anind K. Dey
Dean and Professor
Fall 2020