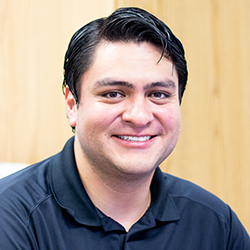 Conrrado Saldivar, a student in the online Master of Science in Library and Information Science program at the University of Washington Information School, was recently named Wyoming's Outstanding Librarian of the Year.
This annual award is presented by the Wyoming Library Association and recognizes the outstanding accomplishments of a library employee in the past year.
"Winning this award has been a humbling experience, especially because I have only been in the library profession for just over five years and feel like there's still so much more to learn," Saldivar said. "It shows how both my work experience and my experience at the iSchool have come together to influence my library and community."
Saldivar began working at the Natrona County Library in April 2015 as an adult services specialist. He received a BA in Anthropology and Spanish from the University of Wyoming in 2013 and began working on his MLIS at the iSchool in 2018.
When the COVID-19 pandemic began, Saldivar used the library creation station equipment to make personal protective equipment for Natrona County and Wyoming health care workers. He also took the lead in partnering with the Wyoming Technology Coronavirus Coalition to produce face shields and masks using the library's 3D printer, Cricut Maker and sewing machines.
Saldivar was responsible for producing 120 face shield parts that went to several local medical centers in Casper, including the Wyoming Medical Center, Central Wyoming Counseling Center, and Child Development Center of Natrona County. Saldivar also organized a medical supplies donation drive at the Library on April 7 to gather personal protective equipment from the community.
Saldivar expects to graduate at the end of the 2020-21 academic year. Although he is still figuring out his future, he sees himself focusing on technology, how to use and understand it. He hopes to be in a position where he can directly improve the lives of the people around him.
"One major issue I've seen throughout the pandemic is how access to technology varies across socioeconomic groups, and especially how important libraries are in providing these resources," he said.
Saldivar recently started working on a major expansion of his Natrona County Library's makerspace through a partnership with the University of Wyoming. He said the project is the perfect blend of technology, instruction and community engagement, which is now an important part of what libraries do for the people they serve.
In addition to being named Wyoming's Librarian of the year, Saldivar received an American Library Association 2019-20 Spectrum Scholarship for his commitment to equity and inclusion. Saldivar was also named a Husky 100 honoree in 2020, an honor awarded to students who are making the most of their UW experience, both inside and outside the classroom.