The University of Washington houses hundreds of world-class instructors and faculty members who have mastered the art of teaching face-to-face. Yet in March, when the UW was suddenly forced to shut down and switch to remote instruction due to the COVID-19 pandemic, they unexpectedly found themselves pushed to their limits.
For many instructors, up was down and down was up. They were presented with new challenges and could not rely on traditional teaching methods as they adapted to the online space. This was especially the case for those were asked to teach online for the first time without much time to prepare.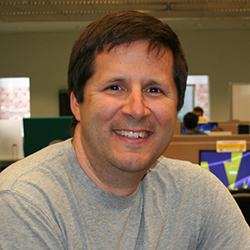 In response to this crisis, Rus Hathaway, a senior instructional designer at Continuum College, worked with his team to find ways to support instructors who had little or no experience teaching remotely. His solution was to create a toolbox for Effective Online Teaching, based on Information School Associate Professor Ricardo Gomez's teaching in LIS 570: Research, Assessment, and Design. Each of the "Seven Principles for Effective Teaching" includes an explanation and examples drawn from his courses:
Gomez's working relationship with Continuum College was established in summer 2019, when Matthew Saxton, iSchool Associate Dean for Academics and associate teaching professor, oversaw the development of an online version of LIS 570. Hathaway was appointed to work with Gomez, who had a very successful in-person version of the class. When Gomez taught the course online — for the first time in autumn 2019 — Hathaway sat in and was very impressed.
Hathaway got a first-hand observation of Gomez's teaching methods and what made his courses so successful. Two things he noticed off the bat were Gomez's transparency and empathy with students.
"One of the principles of good instructional practice is to treat students like people. You know they're not just names or whatever; they're people. And I saw that Ricardo was interested in his students as people," Hathaway said. "He worked to address student concerns and still maintain academic rigor. I appreciated that he didn't water down the course, but at the same time, he also didn't write off the students and call them lazy."
As he observed Gomez's teaching practices, Hathaway found that his use of a more democratic approach — demanding input and feedback from his students throughout the learning process — was very successful.
"That's good pedagogy, especially for adults, to give people the choice to decide what their learning experience is going to be," Hathaway said.
One of the biggest challenges in an online classroom is that much of the learning is completed asynchronously and even during synchronous classes, students can feel disconnected from their instructors as well as their peers. That can disrupt the learning process, so faculty need to work harder to engage students to make sure they are comprehending course content.
Hathaway praised Gomez's responsiveness to his students and his ability to engage them through the Canvas website, which is important to teaching online.
"He had a general discussion forum that contained over 130 posts in it. The students really used it," said Hathaway. "I have seen a lot of courses with general discussion forums and it was clear that nobody ever used them, likely because the instructors never actively engaged with students in that space."
Hathaway said interaction among students is among the most important elements of successful online education. Feedback from peers is key to building strong connections.
"Gomez established what we call instructor presence in a big way. That is something we want our instructors to be able to do as well," Hathaway said. "Those types of things create learning community. And a big part of remote learning is trying to create a community of learners."
Gomez said teaching remotely is different from teaching in person and can be difficult for newcomers. He was fortunate to have the experience of teaching LIS 570 online in autumn 2019, which made a huge difference.
"I was not forced by the pandemic and a sudden pivot to teaching online without time to prepare. I had time to think about it and think it through and convert the teaching and learning experience from the classroom to the online format, which is a different space," he said.
Gomez said learning to teach well online takes time, so it is important for faculty who have not taught remotely before to spend at least triple the amount of time they would normally dedicate to teaching.
Continuum College utilizes the toolkit with free Zoom workshops for UW instructors interested in learning how to effectively teach remotely. Continuum expects to add a web page this fall to allow instructors around the world to access the toolkit.