As the world grows more complicated for teens and tweens, so do the chores they do with and for their families. Young people, especially those whose parents are immigrants or refugees, are increasingly tasked with finding crucial health and financial information online.
But the tools they're using — search engines and technological platforms — are designed for adults. iSchool Assistant Professor Jason Yip has often wondered how they can do a better job for younger users. He recently was awarded a five-year CAREER Award from the National Science Foundation (NSF) to look into this "invisible work" and find out.
The NSF grant, worth $549,046 over five years, will allow Yip and fellow researchers to learn how youths search for health and financial information for families with lower English literacy levels or lower socioeconomic status. They'll work with youths to design alternative technologies and do field studies to evaluate prototypes. In the end, their research will inform how the next generation of designers approach technology.
Yip said the idea for this study has percolated for several years. As a graduate student at the University of Maryland, he observed how middle school students used search engines for things such as video games, hobbies and education. During his post-doctoral research at the Joan Ganz Cooney Center at Sesame Workshop, he teamed with Carmen Gonzalez, an assistant professor in the UW Department of Communication, and Vikki Katz, an associate professor at Rutgers University, to study how a group of Latinx kids used technology to seek information for their families. They observed youths playing a key role in gathering information for their parents, especially information about health and finances.
"It was mind-blowing. They were doing things that I'd never seen done before," said Yip, who has been at the UW iSchool since 2014. "I thought, 'This is really interesting. Kids are searching for high-level, critical information.'"
"We should be asking the question, 'Why isn't it designed better? Why isn't it designed for an 11-year-old to search for critical information for their family?"
The youths they observed weren't interested in search tools designed for children, but they also frequently had trouble filtering their search results for reliable information with advanced tools such as Google.
"We live in a world where children and teens have to search for high-level information using high-level tools that are meant for adults," Yip said. "We should be asking the question, 'Why isn't it designed better? Why isn't it designed for an 11-year-old to search for critical information for their family?'"
Soon after Yip's arrival to the UW iSchool, he continued his partnership with Gonzalez on a Google Faculty Research Award and University of Washington Royalty Research Fund to conduct fieldwork in the homes of 23 Latinx families, studying their online searching behaviors.
Gonzalez, who will partner with Yip on this CAREER project, said the research will help develop better tools to bridge the information gaps within families, especially among marginalized communities. The CAREER Award will allow Yip and his partners to further expand on research into how people in other marginalized communities, including first-generation college students at the UW, search for crucial health and financial information.
"This grant highlights the important, and often unnoticed, work that young people do with their families to help bridge access to information and resources," she said.
She noted that Yip has established an ability to connect with kids, families and community members that will be invaluable on this project.
"Jason's commitment to equitable research and design is genuine — you can feel his passion for helping others in everything that he does," she said.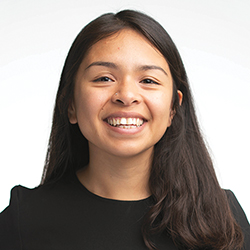 Another key researcher on the project is Wendy Roldan, a fourth-year Ph.D. candidate in the Human Centered Design & Engineering (HCDE) department. Yip and HCDE Professor Jennifer Turns co-advise Roldan, who also assisted on the previous research with Latinx families and helped write the CAREER grant proposal.
Roldan, who grew up playing the role of information broker in a bilingual family, said that project piqued her interest in the skills children develop when they do this "invisible work" in the home.
"Not only are they helping their family and helping find the information they need and their parents need, I think they're developing critical digital literacy skills, problem-solving skills and collaboration skills," she said, adding that this project will give them a chance to follow kids as they reach adulthood. "I'm interested in the evolution of search and brokering within the home, so as children grow up and leave the home, what does search and brokering look like?"
NSF CAREER Awards are intended to support early-career faculty with the potential to become leaders in their fields. They're often seen as a milestone in a scholar's career. For Yip, the grant came at a challenging time. About a week after he learned it was coming in March, the UW sent students and faculty home, and people retreated into quarantine.
"COVID threw a big monkey wrench into the project," he said. He had to postpone plans to observe families' use of technology in their homes. Instead, the research team will use video chats to conduct workshops with young internet searchers, then do its in-home work when conditions are safe.
At the same time, the novel coronavirus has made the research even more timely. It has put a premium on the ability to find reliable information about health and finances.
"There are definitely going to be kids looking up what the coronavirus is or how to deal with it, and because of the economic downturn as a result of the coronavirus, they're definitely looking up jobs," he said.
Photo of Yip at top was taken pre-pandemic. If you or someone you know is interested in participating in his research project, contact him at jcyip@uw.edu.