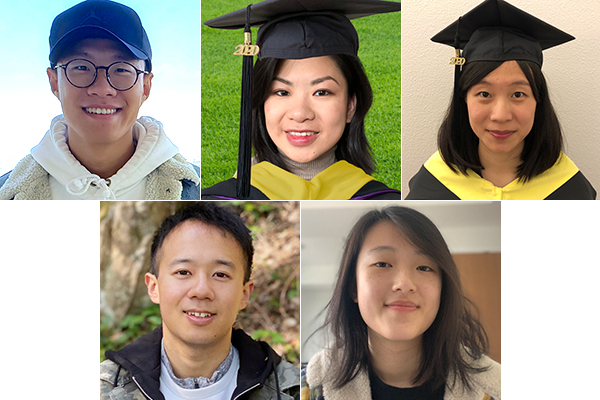 At Pacific Science Center, a model of the solar system is a popular attraction for visitors. Kids spin the planets and marvel at the massive size difference between Earth and the sun. While it's a fun area for young visitors, there's more playing than learning going on.
A group of University of Washington Information School students, working with science center staff, wanted to see if they could find a way to keep the sense of fun, while leaving kids with lasting knowledge. The team created a game that uses mixed-reality technology that allows students to interact with the solar system in a way that's fun but also educational.
Their project was a collaboration between Pacific Science Center and Magic Leap, a company that creates headsets that project a virtual display that can interact with the user's real, physical surroundings. The Capstone team included Ziyu Guo, Lexi Li, January Shen and Garson Yang, all Master of Science in Information Management students; and Vanessa Lin, an Informatics student.
"A highlight of the project was definitely having the chance to work and play with the really cool Magic Leap headsets," Guo said. "I think that's one of the most critical aspects that differentiates us. We had the privilege to work on both software and hardware devices, which created a unique and immersive game experience for space lovers."
The team's work began with a visit to Pacific Science Center, where they spoke with staff to understand how the Magic Leap technology could work with the science center's goals. The staff explained that, while kids enjoyed interacting with the current planetary display, there was more playing than learning going on. The Capstone team wanted to change that.
"We wanted to focus on the educational value and how we could take advantage of this technology to improve people's experience of the museum," Lin said.
The team originally planned to create a game that could be played at the science center. They intended for users to each wear a set of the Magic Leap goggles and play together while learning about the solar system.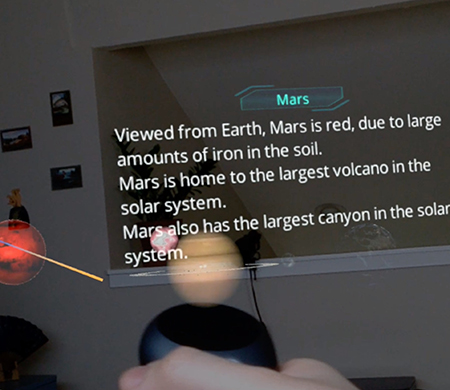 COVID-19 hit at a hard time for the team, however, forcing them to rethink their whole project as they had to shift to working remotely. They could no longer visit the science center, and they couldn't even be in the same space to use the headsets together. But the team adapted, with a lot of flexibility and creative thinking, to ultimately create a two-person game that utilizes a single Magic Leap headset. In the revised game, the second player has a set of cards and, by sharing information, the two players ultimately learn about the planets and move them all into their correct orbits. At the end, the solar system soars away satisfyingly, planets moving gracefully in their orbits, as if in a sci-fi movie.
Yang said he particularly enjoyed being able to program something with a result he could see.
"When I could really see the stars floating around me, and have the interactions that I designed, I felt so accomplished and delighted. It felt like my passion and love for engineering were further strengthened," he said.
Li said it was an interesting challenge to combine education and play with all the software engineering skills they'd all learned at the iSchool. They researched the use of mixed reality in education, with the guidance of their teaching assistant, Ph.D. student Johnny Cho, who has a particular interest in it. They also looked at Common Core state standards and considered how they could fit into their game.
"It was a great learning process; we really learned a lot about the planets and the solar system. The Pacific Science Center educators helped us with that," Li said. "We also learned how to work with Unity, a game development platform, and the Magic Leap modules. We had to learn new platforms from scratch."
The students said their iSchool education gave them the tools they needed to adapt as their project was forced to change. Shen said that, as the project manager, she had make the most of the planning and tech skills she'd learned. The goal of Capstone is to give students a chance to work on a real-world problem, and the team certainly got a lot of experience with that.
"We had to be flexible," Shen said. "We learned how, even when you plan ahead and allocate time, many tasks take way more time than you imagine. We had to learn to stop early if something wasn't working."
Laura Trutoiu, the team's sponsor at Magic Leap, said the team had the skills and enthusiasm they needed to overcome the challenges. She was particularly impressed with their work to understand Common Core standards and integrate that information into the game.
"It was very rewarding to mentor the students," she said. "They were very eager to absorb new information and to explore."