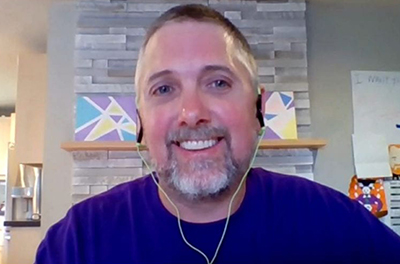 Shawn Lee and his AP U.S. History students at Seattle's Ballard High School were gearing up to attend MisinfoDay at the University of Washington in March when concerns over the coronavirus forced the Center for an Informed Public to rethink its planned in-person event.
"We were all ramped up and ready," Lee said in a recent interview about MisinfoDay, an event first held in 2019 and designed to educate high school students, teachers and librarians about how to be better information consumers and less likely to share misinformation.
Just as the CIP had to shift gears with MisinfoDay 2020 — the planned in-person student event in March turned into a June webinar designed for educators — Lee pivoted as well, organizing his own virtual "MisinfoDay Jr." event in May tailored for his two AP U.S. History sections at Ballard High School. It was the culmination of a four–part "digital survival skills" curriculum Lee developed with Liz Crouse, a librarian at Seattle's Nathan Hale High School who was instrumental in organizing and launching MisinfoDay when she was a Master of Library and Information Science student at the UW Information School.
"There are simple fact-checking skills people can use to guard themselves against misinformation, but most people don't know them," Crouse said. "We're just starting to teach these skills in schools, so many adults especially aren't familiar with them. That's why MisinfoDay Jr. is so exciting."
Lee's students had already taken their AP exams, so the former paralegal-turned-teacher was anticipating that it might be difficult to keep his students engaged for the remainder of the school year, something that was more challenging this year when schools in Washington state shifted to remote learning in March.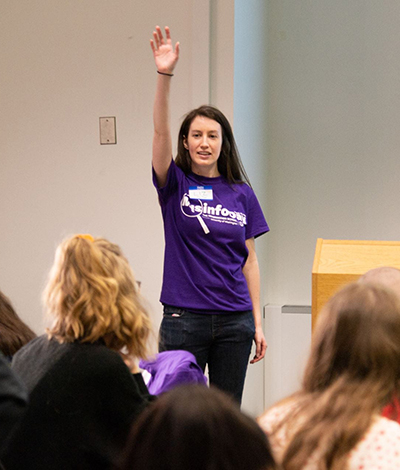 "For the students who participated, they really saw it as the community service opportunity that it was: Educating their parents and community about good digital citizenship," Lee said.
Along with lessons and insights from Lee and Jevin West, a UW Information School associate professor who serves as the CIP's director, students shared presentations about understanding confirmation bias; investigating sources and claims; how to find better news coverage; how to trace the source of information, photos and videos; and better understanding the ways algorithms influence what you see on certain websites and social media platforms.
One of those Ballard High School students was Mercedes Tucker, a rising senior who said in an interview that the MisinfoDay programming is "very aligned with what's going on in the world right now."
Tucker said that the lessons from the Ballard High School MisinfoDay Jr. event continue to resonate. "When I hear a claim, I now think: 'Is that true? Did that actually happen?' I think I look at claims with more specificity," Tucker said.
With so much misinformation being shared on social media and elsewhere online, Lee said those skills are incredibly important for high schoolers as they're becoming adults and more savvy information consumers.
"I'm horrified by the amount of garbage there is out there," Lee said. "You're not 100% going to know everything. But you can take the information that's out there, run it through the filter and make your own conclusion."
Building off the successes at Ballard High School and fueled by the desire to share important lessons from MisinfoDay more broadly, Lee pursued funding from the Washington Office of the Superintendent of Public Instruction to jumpstart a new K-12 educator training initiative that's called Teachers for an Informed Public.
Lee has recruited additional teachers and librarians from across Washington state and is gearing up for the first Teachers for an Informed Public meeting, a virtual convening Aug. 3 that will be followed by more group discussion. Some of the group's work will involve scaling the digital survival skills curriculum for middle school and K-5 students.
Inspired by the CIP's broader mission to raise public awareness around misinformation and disinformation and bolstered by his own experiences developing the digital survival skills curriculum and MisinfoDay Jr. at Ballard High School, Lee said he wants to inspire more teachers, librarians and other educators not only elsewhere in Washington state, but across the nation.
"I see this work as so urgent," Lee said.
ADDITIONAL INFORMATION:
This story was originally published on the Center for an Informed Public's website.