Lassana Magassa, a recent Ph.D. graduate of the University of Washington Information School, has been selected for the Eugene Garfield Doctoral Dissertation Fellowship for his dissertation, "'I am Not Computer Savvy': A look into the Everyday Digital Literacy Levels of Formerly Incarcerated People Using a Novel Holistic Digital Literacy Framework."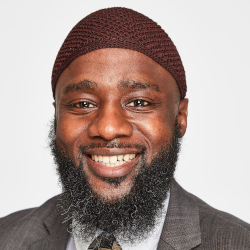 Established by the Beta Phi Mu International Library and Information Studies Honor Society, the Eugene Garfield Doctoral Fellowship is a prestigious award that consists of a $3,000 cash award to doctoral students who are working on their dissertations in Library and Information Science, Information Studies and other related fields. 
Magassa was grateful to win the award and said he would give the money to former inmates who took part in his research. 
"Receiving the fellowship empowers me to recruit and compensate additional people to participate in my research. This is something I could not otherwise accomplish," said Magassa.
His dissertation builds a framework of everyday digital literacy and explores the everyday digital literacy levels of formerly incarcerated individuals using a questionnaire developed following an intense literature review. His goal is for his research findings to support evidence-based decision making. Magassa said that structuring the experience of incarcerated people in a way that considers everyday digital literacy practices increases the likelihood that formerly incarcerated individuals will be able to successfully navigate the digital spaces and tools they encounter after returning to the community.
Magassa successfully defended his doctoral defense in May. Learn more about Magassa and his research.