Justin Wadland, who earned his Master of Science in Library and Information Science in 2003 at the University of Washington Information School, was honored this past spring with the UW Distinguished Librarian Award for his work at the UW Tacoma Library, where he has worked extensively with digital scholarship and helped established the UW Tacoma Digital Commons, the campus institutional repository.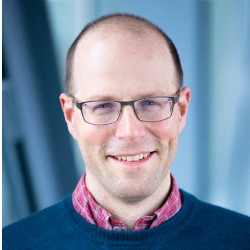 This annual award recognizes a librarian whose contributions advance the mission of the libraries and the university in the areas of teaching, learning, research and innovative approaches to practice. Wadland is the first UW Tacoma librarian to win the UW Distinguished Librarian award and said he was honored to be recognized.
"It is very humbling to me. When they told me, I had this feeling like, 'Really, are they talking about me?'" Wadland said. "You sure you got the right librarian? Because I know there are many great librarians in the University of Washington."
Since 2003, Wadland has worked as a librarian at UW Tacoma. In addition to his work with UW Tacoma Digital Commons and digital scholarship, he wrote a book, Trying Home: The Rise and Fall of an Anarchist Utopia on Puget Sound, and has contributed several articles to HistoryLink.org connected to UW Tacoma campus history.
Wadland currently serves as the interim director at UW Tacoma Library and associate dean of University Libraries.  He is focused on working on an oral history of the founding and development of the UW Tacoma campus that he hopes will be completed this summer for the 30th anniversary of the UW Tacoma campus.