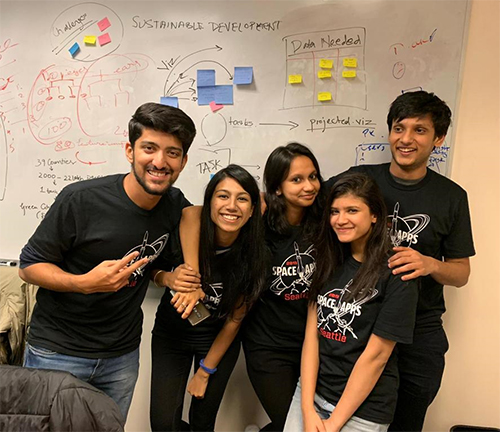 A team of Master of Science in Information Management students recently took honors in a pair of Seattle hackathons by putting satellite data to work.
Oindrila Choudhury, Prathamesh Mahankal, Yash Raichura, Purba Roy and Roshni Roy, all first-year students in the early-career MSIM program, won the Rising Star Award at the Seattle edition of the NASA Space Apps Challenge, an October competition that invited teams of data scientists, engineers, students and entrepreneurs to dream up ways to use NASA's open data in real-world applications. The students' "Data For Good" team won the award for the best student-led project.
The students followed up their success at the Techstars Startup Weekend Seattle "Space Edition" in November, where the same team (minus Roshni Roy) won the Best Customer Validation Award for developing a business model using satellite data to address climate change.
At the Techstars event, the team built a working prototype of a website where people can sign up to be assigned one small task, such as carpooling or cleaning their chimneys, that they can incorporate into their lives each day. The tasks are based on analysis of satellite data on factors such as the air and water quality where the website user lives.
Choudhury said the team came up with a revenue model using factors such as customer validation, market size and corporate partnership opportunities. The team's idea is that "if all the citizens would do just even task a day, we could create a greater impact and handle climatic challenges," she said. 
For their efforts, the students took home prize packages that included Amazon Web Services credits and copies of the gold record sent on the Voyager spacecraft.