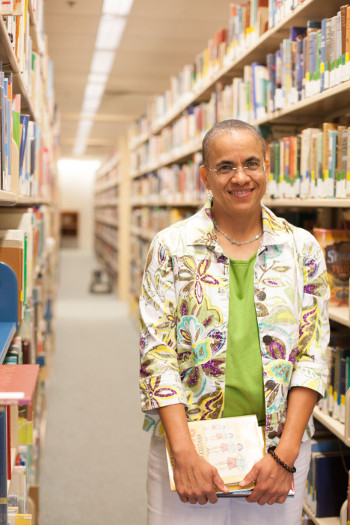 Michelle H. Martin, the Beverly Cleary Endowed Professor in Children and Youth Services at the iSchool, served as a guest speaker at a UW Alumni Book Club meeting, where she shared her expertise on diversity and representation in literature.
"No-No Boy," John Okada's story of a Japanese American's internment during World War II, was the springboard for Martin's discussion with book club members who joined her online on Dec. 19. "No-No Boy" was a little-noticed work at the time of Okada's death in 1971, but it found an audience in later reprints and became a well-known and important piece of Asian American literature. It was the book club's selection this fall.
Martin spoke to the group about the importance of "mirror books," a concept she credited to scholar Rudine Sims Bishop. Whereas "window books" give readers a glimpse of other people's lives, mirror books reflect the readers' own lives and experiences. Martin noted that in children's literature, for example, it's easy for white kids to find characters like them, but people of other races have long found it challenging to find books that mirror their lives.
"It's really important for everybody to be able to have reflections of their lives, whether that's having divorced parents or whether that's having a sister or brother who has a learning disability or has visual impairments, whatever it is, there ought to be books about all of those," Martin said.
Martin said the growth of the internet has helped increase the number of diverse voices in literature because so many books are now self-published. Grassroots movements online, Martin said, "have really pushed the conversations forward and also pushed the industry to change."
Asked about the #OwnVoices movement, which urges authors to write about their own lived experiences, Martin said she leans toward an inclusive view.
"I think that if you do your homework and you do it well, you should be able to write about things outside of your experience," Martin said. "But I also am a believer that not every story is yours to tell."
You can listen to a recording of Martin's talk or sign up for the book club on the UW Alumni Association's website.