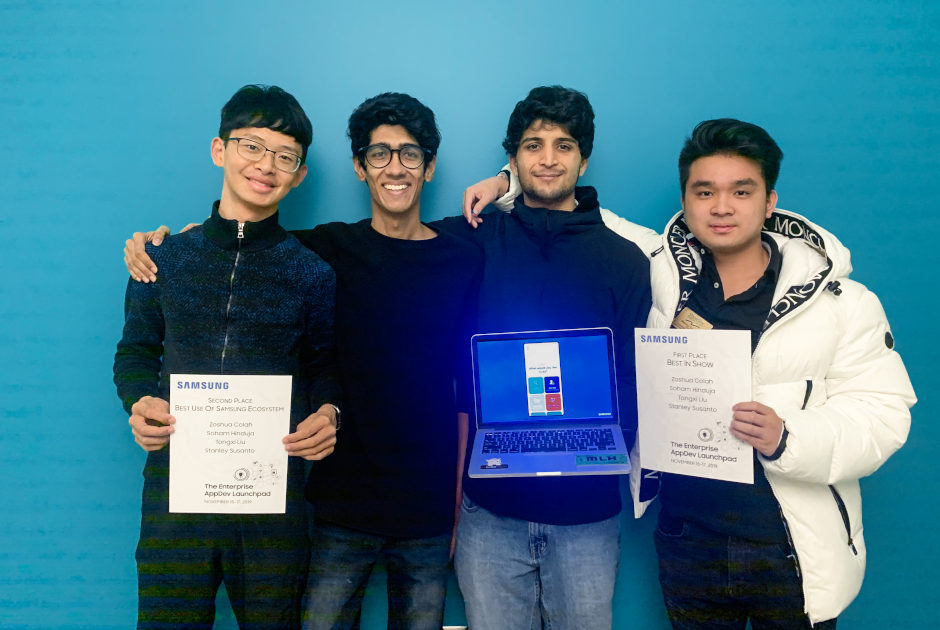 A team of iSchoolers recently won two awards at the Samsung Enterprise App Dev Launchpad Hackathon hosted in Seattle.
Composed of current, graduated and prospective Informatics students, the group included alumnus Zoshua Colah, senior Soham Hinduja, sophomore Tongxi Liu and intended transfer student Stanley Susanto.
The hackathon fosters innovative solutions for real-world enterprise challenges. Using Samsung devices, hackers, developers and designers address key issues in finance, health care, manufacturing, public safety and retail.
Colah, Hinduja, Liu and Susanto designed a hospital patient management application that could function as both a mobile app and desktop app when connected to a monitor. Their work incorporated Samsung's Desktop Experience—or DeX—feature, which enables users to work between devices with ease.
Their solution aims to cut costs while reducing miscommunication between software platforms that typically delay caregiving.
"A single multiplatform software and hardware solution creates a seamless experience for care providers by allowing them to maximize the time they spend with patients," Colah explained. "Now hospitals only need to invest in mobile phones, monitors, and the Samsung DeX platform rather than desktop computers and laptops."
The application won first place for Best in Show and came in second for best use of the Samsung ecosystem of devices. As a reward, the team received several Samsung products, including tablets, phones, watches and wireless ear pods.