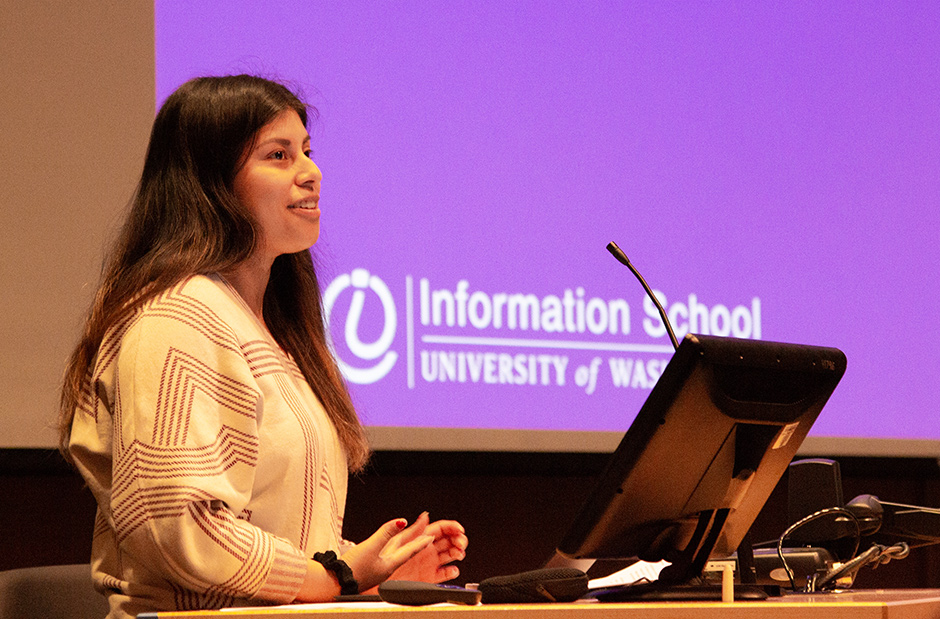 "How did you hear about the iSchool?"
The answer to that question is, very often, word of mouth. Information about the iSchool is frequently passed from friend to friend or among families. That's a powerful way for students to learn about all the school offers. But it's also limiting.
"When I talked to students about how they'd found Informatics, they all told me it was through word of mouth," said Eva Perez, an Informatics student. "And that's not equitable or sustainable."
When knowledge of the program is mainly spread among friends or families, it reinforces existing demographics and works against the iSchool's goal of increasing the diversity of its student body. In response, student leaders have taken the initiative to spread the word about Informatics to high school students who might not be aware that it's an option, in particular students of color or those at schools with fewer resources.
Katie Goulding, a 2019 iSchool graduate, and Cynthia del Rosario, iSchool diversity programs advisor, came up with the idea of "high school to iSchool" programming. Goulding won a grant from the UW Office of Minority Affairs & Diversity that made it possible to create a hackathon for about 40 high school students from the Technology Access Foundation, which focuses on teaching tech to students of color and other underrepresented communities.
Perez, who is the director of diversity for the Women in Informatics student group, was a mentor at that event, a "Hack for Social Good" last spring. She was impressed with the students' ideas to address issues such as menstrual equity and the high school to prison pipeline.
"It was super cool to see the approach they came up with," Perez said. "The students had a great time, and we were able to educate them that coding is not just coding — there's a great impact beyond that."
Perez has continued to work with other students and del Rosario to expand the program. In addition to visiting high schools, she's gone to Seattle Central College to talk about the iSchool and hopes to reach other community colleges this academic year. As a transfer student from Seattle Central, she found visits there particularly fulfilling.
This fall, Perez worked with other students on the iTech Symposium, which brought Seattle high school students to the iSchool.
Alejandro Huante, president of the Informatics Undergraduate Association, was already helping younger students apply to college when he heard about iSchool outreach efforts. He immediately wanted to get involved. He spoke at last year's hackathon and helped with the iTech Symposium this fall.
"I had a lot of people help me get to the UW," he said. "And that really empowered me, because if it weren't for them, I wouldn't be here."
Associate Professor Amy Ko, Informatics program chair, knows the value of this outreach to the iSchool's goals. When Informatics students lead the efforts, she said, their age can make it easier to connect with those who are still in high school.
Now is an important time for the iSchool to consider how to effectively spread the word to high school students. The University of Washington is moving toward a model where more high school students apply directly to a specific program. In the past, the Informatics program would get a few applicants a year from incoming freshmen, but now dozens of students apply, and that number will only grow.
The iSchool needs to think strategically about how they admit those students, Ko said. And attracting new students, particularly from groups underrepresented at the iSchool, is vital. It will help produce graduates who are able to go into the job market with the skills to use technology for good.
"All jobs require a diversity of human experience, because that's what they are designing for," she said. "They are designing for everybody. It's really important that those who graduate represent the public."