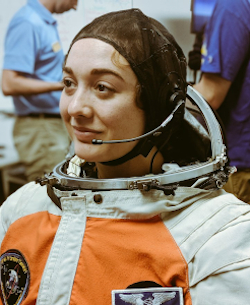 Informatics student Shannon Gatta recently won the first phase of the "Out Astronaut" contest, aimed at sending the first openly LGTBQ person to space.
Gatta's winning entry earned her basic training at the Advanced PoSSUM Academy class at Embry-Riddle Aeronautical University in Daytona Beach, Florida. The next phase of the project includes advanced astronautics training with the eventual goal of conducting a science mission in space.
As an Informatics major, Gatta is hoping to leverage data science to advance the aerospace industry.
"I ultimately want to support building reliable vehicle health monitoring systems and prediction capabilities with remote sensing that will truly enable human spaceflight vehicles to be reusable and safer for the astronauts on board," she said.
Gatta has worked as a flight software engineer at NASA and systems engineer at Ball Aerospace. She previously served in Afghanistan with the Army National Guard. She entered the contest run by the Out Astronaut Project, which focuses on addressing the underrepresentation of LGBTQ people in science and space. Of the 561 people who have served as astronauts or cosmonauts, none has ever been openly LGBTQ while they were active.
The opportunity to pursue her aspirations with aerospace is beyond anything Gatta might have imagined for herself in her youth.
"Every single thing I have in my life right now was not something anyone told me was possible when I was a young girl growing up in a small town in Texas," she reflected.
"Poverty and a need for change brought me to the military, desire and perseverance took me to Seattle to get my degree, and the chance to prove that a queer woman could make it in this industry brought me to NASA, the Brooke Owens Fellowship, countless scholarships and private space companies. I wish I knew back then that hope existed, either through an LGBTQ+ role model or others that demonstrated acceptance in differences."
With Out Astronaut, Gatta, who identifies as pansexual, is excited for the chance to increase visibility for the LGBTQ community in a STEM field.
"Representation is hard with sexuality because it is not something you see," Gatta explained. "A person must risk voicing something deeply personal and have others reject or accept them based on that, as many minorities have to deal with every day. Giving others like me a platform to feel comfortable being their authentic self in the workplace has the potential to change lives, bring new vision and innovation to STEM, and cultivate a more accepting world."
Gatta plans to continue serving in the Army National Guard and working in the aerospace industry throughout the Out Astronaut Project. As for what comes next in her career, Gatta remains dedicated to pushing boundaries in meaningful ways.
"I want to continue reaching new heights as I don't believe in ever being finished when it comes to serving your purpose," she said. "Helping others and making a difference in this world is my top priority, so I guess we'll just have to wait and see."