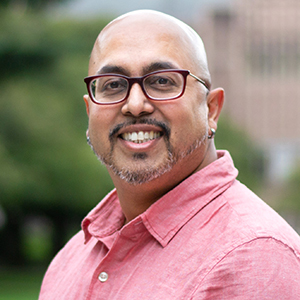 When Associate Professor Amy Ko came out as trans at the start of the academic year, I was filled with emotion. I was incredibly happy for my friend and colleague, and glad that she felt comfortable enough in her life and career to take this huge step publicly. But I was also saddened that someone I had known since she was a doctoral student at Carnegie Mellon University felt she had to conceal an important part of her identity for so many years.
As she wrote in her powerful blog post announcing the news, Amy came out under the best possible conditions. She has a supportive family; she has the job security that comes with tenure; she works at a university recently ranked one of the most LGBTQ-friendly in America. The reaction from iSchool students, faculty and staff was every bit as warm and supportive as I expected. Amy's doctoral students showered her with affection and cupcakes, colleagues stopped by to wish her well, tributes poured in over email and social media. It was a celebration. As Amy wrote in a follow-up blog post, it was "what coming out as trans should look like."
While I'm thankful we have such an inclusive community, my thoughts turned to others in my life and the barriers we build, even if we do so unconsciously. It's heartbreaking that there are countless people who would fear for their careers, social lives and personal safety if they were to share their true selves. I went home and discussed it with my children because I wanted to be sure they feel free to be who they are.
When people can be themselves, without fear of discrimination and ridicule, they are able to reach their potential in their lives and careers. For those of us who research, teach and learn at a university, it means that everyone, regardless of their skin color, identity or how they present themselves, can ask the hard questions they want to ask and have the conversations they want to have. One of our greatest strengths at the iSchool is that people here have so many different backgrounds and so many ways to think about a problem. Diversity of thought is how we will make progress toward solving the real problems of our times.
That is why we not only embrace diversity at the iSchool; we pursue it. We have a diversity committee and an advisor, Cynthia del Rosario, dedicated to recruiting and supporting students of diverse races, backgrounds and identities. In admissions, we work hard to root out bias from the application process and we reach out to transfer students, veterans and first-generation college students, encouraging them to apply. Our student organizations are key to making people feel welcome; and some students have even taken the initiative to reach out to racially and socioeconomically diverse high school students and let them know the iSchool is a place for them. All of these efforts add up to stronger scholarship and a better experience for our students.
The reaction to Amy's announcement was a tribute to the diverse, welcoming community we have built here, but it was also a reminder. We all need to keep working — both at the iSchool and in our lives — to make the world a more inclusive and equitable place for everyone. It's work that pays off in infinite ways.
Anind Dey
Professor and Dean
Autumn 2019