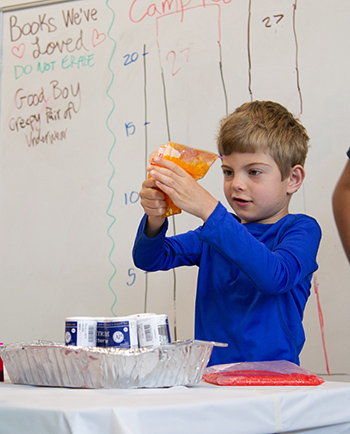 Michelle H. Martin's Camp Read-a-Rama had kids moving, creating and reading across the state this past summer, including the camp's first foray into a public library.
Martin, the iSchool's Beverly Cleary Professor for Children and Youth Services, has run the day camps with Rachelle D. Washington for kids ages 4 to 11 since 2009, when both were on the faculty at Clemson University in South Carolina. Read-a-Rama is a nonprofit that promotes literacy by using books as the springboard for hands-on activities, such as crafts and sing-alongs. Martin's motto is "100 percent engagement, 100 percent of the time."
Martin and Washington have typically run the camps at churches and community centers with high numbers of children from low-income households. This year, librarians Gwendolyn Haley (MLIS, '00), Mary Ellen Braks and Melanie Boerner adapted the program for a series of seven weeklong half-day camps at the North Spokane Library.
"We know we have some schools where kids are really struggling with reading," said Braks, the library's public services manager for early learning. "We thought if there was any way we could help over the summer other than just saying 'keep reading,' that might really help the kids keep up their skill levels."
Boerner, the library's literacy coordinator, adapted Martin's model for a series of weeklong half-day camps coordinated with the library's free-lunch program. The camps had room for 16 children each week for seven weeks, and they filled up surprisingly fast, Boerner said. Campers took turns at tables where camp counselors — a trio of AmeriCorps VISTA volunteers — assisted them with activities such as painting and making gooey, green slime. Thirty minutes each day were devoted to "DEAR time," for Drop Everything And Read.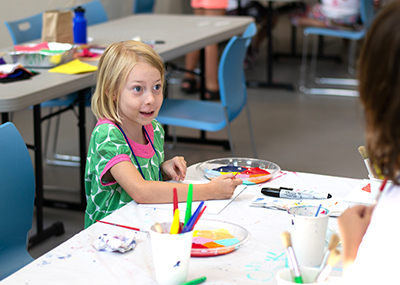 "We always had books available to them, and we asked them for that 30 minutes to find a book and sit down and read, or a counselor would read for them," Boerner said.
Gwendolyn Haley, the library's public services manager for education and enrichment, said it was rewarding to see children who were enthusiastic about the program and excited to be there for the books, not just the slime.
"This is the only program we've ever done where we actually have the kids sit down and read as part of our summer reading program," Haley said. "Having the kids come back and be excited about books for three hours a day was awesome."
Martin helped the Spokane librarians plan their camps and paid them a visit to share feedback once they were up and running.
"When I visited the Spokane site, I was thrilled that it looked, felt and sounded like Camp Read-a-Rama, and the kids were having a ball," she said.
More photos from Camp Read-a-Rama Spokane: