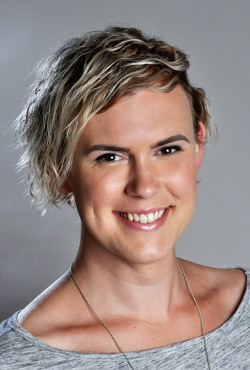 Is the internet supercharging hatred? Information School Assistant Professor Anna Lauren Hoffmann and fellow panelists tackled that question in a lively discussion Oct. 9 at Town Hall Seattle.
The event, "One Click Away: Hate and the Internet," was sponsored by Humanities Washington, the iSchool and Town Hall Seattle. It challenged panelists with questions about whether large technology platforms such as Twitter, Facebook and Reddit are amplifying hate speech, and whether those same private companies should be responsible for preventing it. Much of the discussion focused on whether social media sites are up to the task.
"It is a problem of scale," said Hoffmann, who researches questions of data, technology and ethics. She questioned Facebook's ability to combat hate speech when its primary motivation is growth. "There are dictates and demands to increase user bases. When you increase scale, you get some of these problems. You couldn't feasibly hire the number of people that it would take to human-moderate the amount of content that's coming through these platforms."
If a company can dominate the market as Facebook does but can't stop the torrent of hate speech, Hoffmann asked, "Should we have companies as big as Facebook?"
Joining Hoffmann on the panel were Lindsay Blackwell, a researcher on Facebook's Community Integrity Team; Shankar Narayan, Technology and Liberty Project director with the ACLU of Washington; and moderator Eric Davis, an associate professor of sociology at Bellevue College.
Narayan talked about the structural racism at the root of much of the hate speech online and urged efforts to educate people about the underlying problems – racism, sexism and other "isms" that allow hatred to flourish.
"Hate predates the internet. It's always been a symptom of really deep structural inequity," Narayan said.
Blackwell addressed the challenge of trying to keep up with the constant flow of hate speech on platforms such as Facebook, even with thousands of moderators on the job. Like Narayan, she suggested education is key. She noted that Facebook has gotten more proactive about instructing users about what is acceptable behavior on the platform.
"If we don't do something about the input – the root causes when people go on Twitter or Facebook and say [terrible] things to each other – then we're never going to solve this problem," Blackwell said.
A follow-up panel discussion, also featuring Hoffmann and Blackwell, will take place Nov. 18 at the Grand Cinema in Tacoma.