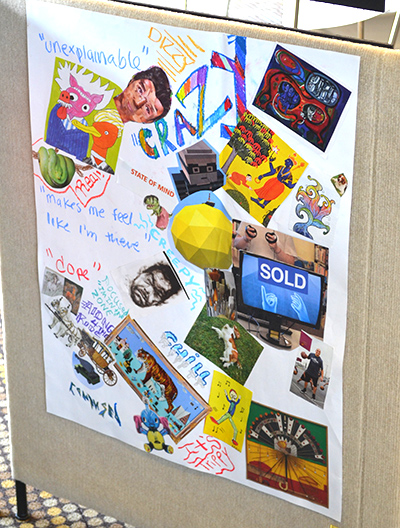 A recent art exhibit at Snoqualmie library displayed artwork inspired by teens' experiences in virtual reality. Called "Here But Not Here," the exhibit showcased the work of teens who typically are unable to go to the library. They are incarcerated nearby at the Echo Glen Children's Center for Juvenile Rehabilitation.
The exhibit, and the VR experiences that inspired it, were part of a research project led by the University of Washington Information School and Museology program. The project aims to create a digital arts education program for kids at the Echo Glen School, and to establish a model for learning about and creating digital art using VR as an educational tool.
As research assistants, recent Master of Library and Information Science graduates Dovi Mae Patiño and Eliza Summerlin have done much of the legwork on the project. Together with other RAs, faculty and teen librarians from the King County Library System, they designed VR experiences and worked with teens at Echo Glen to explore their interest in learning about and creating art for and in VR. Their work was the basis for their Capstone project this spring.
"Virtual reality for me is something that is full of wonder and excitement," Summerlin said. "The thought of bringing an emerging technology to someone who doesn't have much access to any type of real play or creativity is really a cool challenge."
The research team developed eight VR sessions to test with about two dozen teens at Echo Glen in May. The sessions included an introduction to VR, a lesson in world-building, and artistic music visualizations. Summerlin and Patiño also conducted a pilot study in the Snoqualmie Public Library with a small group of local teens in April. This helped them think about logistical issues such as how many VR headsets are needed to keep all of the students engaged and how quickly to move between activities in order to hold teens' interest.
"Every day at Echo Glen, it was a process of iteration," Summerlin said. "You figure out what works and what doesn't work. We're fortunate because we got to work with different age groups of kids, so it's been really interesting to be able to see what content and what learning objectives work for one age group but perhaps not for another."
In the iSchool MLIS program, the students had both taken a class in participatory design, a class in digital media and social activism, and a class focused on inclusion in learning and libraries with Assistant Professors Negin Dahya and Jason Yip. The participatory design approach involves all stakeholders in the creation of an activity or technology. The coursework proved particularly useful in this project, Patiño said.
"We're entering this space to learn with them and create with them. When we ask them to participate in activities, we're just as invested in creating as they are."
"Thinking about dynamics of power and privilege, we enter this space and we're not trying to be an authority figure to them," she said. "We're entering this space to learn with them and create with them. When we ask them to participate in activities, we're just as invested in creating as they are."
The project gave students an opportunity to learn about technology and emerging job trends. Patiño said that while gaming and world-building activities proved popular with the teens, some were more interested in the VR technology itself and ways to use it to express themselves.
"We had activities where we asked them to think about how VR is made and produced – thinking about that chain and the different kinds of content," she said. "A lot of the research on VR right now is in using it as a training tool, but we really think that it can be a medium for creativity."
Summerlin added: "This could be a gateway for kids to get into animation or for them to learn more about robotics or whatever it may be. We hope it's a spark."
Led by UW Museology program director Jessica Luke, and in partnership with Seattle Art Museum, students from the Museology program helped the participants at Echo Glen create art related to their VR experience in the last two sessions of the program. They then created the exhibit that went to the Snoqualmie library in early June using the students' creations. (One of the pieces from that exhibit is pictured at top.)
Summerlin and Patiño are continuing to work on the project through the summer. They are refining the VR curriculum and making a toolkit for other practitioners, mostly in library settings, to use for their own programming around virtual reality as an educational tool.
Along with iSchool and Museology faculty and MLIS students, the project has gotten research assistance from Human Centered Design & Engineering Ph.D. student Wendy Roldan and recent graduate Aaron Joya. It is led by Dahya and Luke, and funded in part by a grant from the Institute of Museum and Library Services. It includes partnerships with the Washington State Library, the King County Library System and Echo Glen School.
Dahya said she hopes their collective efforts will result in an inclusive framework for using VR that can be replicated widely in libraries and restrictive educational settings or those that lack resources. By designing the program for marginalized youths, the idea is that it will work better for everyone.
"When you create something for the masses, the people on the margins aren't always able to make use of it," Dahya said. "I think that's really important, that if we start from these kinds of locations that we might be able to create more things that are workable for more people."