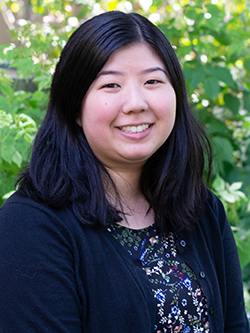 Kelli Yakabu, an online Master of Library and Information Science (MLIS) student at the UW Information School, has been selected as a Mosaic Program Fellow.
Established by the Association of Research Libraries (ARL) and the Society of American Archivists (SAA), the Mosaic Program accepts MLIS students from underrepresented racial and ethnic groups in an effort to increase diversity in archives and special collections. As a fellow, Yakabu will complete a one-year, paid internship with the archives and special collections at UW Libraries, as well as participate in both the 16th Annual ARL Leadership Symposium in January 2020 and the 2020 ARL/SAA Mosaic Leadership Forum.
Yakabu currently works as the Pacific Northwest Accessioning Assistant at UW Special Collections. After having some experience in libraries working at UW Suzzallo Circulation as an undergrad, Yakabu eventually began volunteering at the Seattle Municipal Archives, where she had her first in-depth experience with archiving.
"I really enjoyed helping make documents accessible through digitization and digital collections," she said.
During her senior year as an undergraduate at the UW, Yakabu created a prototype of a digital archive on the Pre-WWII Japanese American baseball community in Seattle. This project, she noted, contributed greatly to her interest in archiving.
"I've become passionate about learning how digital collections can help connect communities to their own histories and help individuals (re)construct their own identities. Seeing myself reflected in these archives helped me realize the importance they can have for people who have never seen themselves represented in mainstream history or Eurocentric curriculum," Yakabu said.
Yakabu has tailored her MLIS experience to allow herself greater exposure to archives-related work and to fine-tune her technical skills.
"I've been really privileged to have had the opportunities to work in a variety of archival institutions and this has helped me identify skills and experiences I still lack. One of those are technical skills including XML (a programming language) and I've been able to take more tech-heavy classes to help supplement the work I do in special collections," she said.
Hardly a stranger to academic honors, Yakabu has received several other scholarship and fellowship opportunities. She is an 2018-2019 American Library Association Spectrum Scholar and has received three iSchool scholarships: Donald and Lynda Horowitz Endowed Fellowship in Information, Technology & Justice; Jeannette Privat Endowment for Librarianship, and the Koon Family Endowed Fellowship. Additionally, she was awarded the 2019 Northwest Archivists Student At Large Scholarship and the 2018 UW Libraries Student Employee Endowed Scholarship. Most recently, Yakabu was granted the John Foster and Janet Avery Dulles Archival Fellowship, in which she will participate this summer at Princeton University.