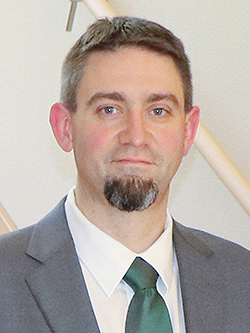 Master of Library and Information Science (MLIS) alumnus Jeremy Skinner was recently recognized as Librarian of the Year for the State of Oregon.
Skinner is the library director for Curry Public Library in Gold Beach, Oregon. His duties include hiring, fundraising, setting strategy and goals, managing employees and coordinating community relations.
The award, which is given by the Oregon Library Association, is granted to a professional librarian who has a proven track record of exceptional library service.
A 2010 iSchool graduate, Skinner has held various library positions as an archivist, special collections librarian, general reference librarian and liaison to several departments at Lewis and Clark College in Portland, Oregon. He also has a background in history, with a focus on Oregon's literary history.
With Skinner's leadership, Curry Public Library has piloted several successful initiatives, such as a summer reading program and a variety of career services for youth. A project he is most proud of is the installation of a library learning center. A $2.2 million construction project, the center acts as a community meeting space and offers a technology lab and access to laser cutting, 3-D printing and other amenities. The space is used for educational, work-experience, and coffee-service programs. According to Skinner, Curry Public Library is the only library west of the Mississippi River to have a space like this. 
Skinner has found that his experience in the MLIS program provided him with a broad base of knowledge that prepared him for his current management position. Additionally, he credits the iSchool and its emphasis on technology learning for giving him the confidence to successfully transition Curry toward an open source integrated library system, which allows the library to freely access source code for the software it uses.
Skinner is honored to be recognized this year. "It feels like it's validated some of the work that I've done," he said. "Some of our big achievements have gotten attention and I think that speaks to the quality of work we've done."