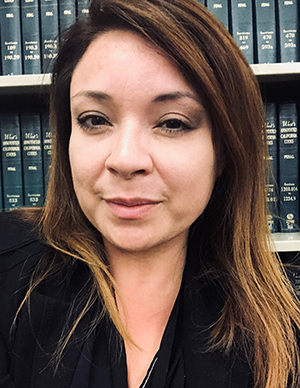 Karen Sánchez didn't start her career planning to become a librarian. Librarianship didn't even seem like a possibility when she was young. Sánchez grew up in Southeast Los Angeles, and she says her youth and young adulthood were more concerned with avoiding street violence, the stress of poverty, and helping her immigrant parents with life in America.
While she was an undergraduate, however, Sánchez had a federal work-study job at the law school library, and that position led to a job at a law firm, where she worked as a law library paraprofessional.
It started as simply a job but became a career she was passionate about. After 11 years, Sánchez was ready for the next challenge. She was inspired by the compelling research work being done in the law library and decided to continue her education. Her life experiences and perspective, combined with librarianship skills, could give her tools to further her own career, while also helping communities she cares about. 
Sánchez looked for a program that offered flexibility and welcomed diversity. She found it in the iSchool's online Master of Library and Information Science program, which offered the academic rigor she wanted and allowed her the flexibility to keep working and to earn a degree remotely. Sánchez, who was the recipient of an American Library Association Spectrum Scholarship as well as numerous other scholarships, will graduate in June this year.
Sánchez choose the iSchool's program because she knew it would give her a solid understanding of the concepts of information technologies and knowledge management — along with more traditional librarianship skills.
During her time at the iSchool, Sánchez has particularly enjoyed making a deep dive into business and government resources and data. She'd worked with government publications before, but the iSchool gave her a much better understanding of the depth of government data, and how to manage it effectively.
"I've enjoyed feeling like I have a greater understanding of data, systems and indexing — that I was transformed from a paraprofessional to a librarian," she said.
"Karen has worked incredibly hard, every step of the way — not just in this program, but throughout her life."
Sánchez said she particularly enjoyed Cataloging, taught by Allyson Carlyle. The class was challenging, but it helped her truly understand cataloging.
"I had worked with catalogs for years as a paraprofessional and never understood the 'science' behind cataloging," she said. "After the course, I understood much more after 10 weeks than after 10 years. To feel like I conquered cataloging, or that it was no longer an enigma, has brought me incredible professional satisfaction. This competency has already served me well professionally."
In her career, Sánchez will have her iSchool skills to help her, but she knows her background and perspectives are also important.
"I am most proud of being a Latina and having a disadvantaged economic background," she said. "It's no secret that librarianship attracts many who love literacy and books, but that wasn't my story (no pun intended). In fact, it shocks many when I admit that I had never read the classics. Certainly I saw the irony in that as a library student, but the program allowed me to see how much privilege is tied to the idea of literacy."
Reading classics was not a part of her education in impoverished and underperforming schools. She now realizes her experience wasn't unique and that it's hard for literacy to be a priority in working-class communities that are struggling with issues such as underemployment, homelessness and the opioid crisis.
"It's why I volunteered for many years for an organization that partners companies and schools to read to inner-city elementary school kids," Sánchez said. "Without an active commitment to target underserved communities, literacy will not become ingrained in young minds. And if literacy is not part of bigger communities, then we'll never have enough voices from the working or immigrant classes to make librarianship a more diverse profession."
Sánchez believes her socioeconomic background gives her valuable insight that makes her an effective mentor. At her former job, she created a library internship program for the inner-city high school students working at the firm. The students learned about information literacy and gained general job skills.
Even before graduation, Sánchez was hired as the solo law librarian with the Los Angeles County Counsel. The L.A. County Counsel is a municipal civil law office that provides legal advice to the L.A. Board of Supervisors, county agencies, and county entities. Los Angeles County is the most populous and most diverse county in the United States. She manages all aspects of the library, including reference, acquisitions, technical services and budget administration.
Helene Williams, iSchool senior lecturer, has admired Sánchez's passion and can-do attitude since they first met. Williams is excited to see what Sánchez accomplishes in her career.
"Karen has worked incredibly hard, every step of the way — not just in this program, but throughout her life," Williams said. "What stands out is her passion to help others, and extend the ladder to bring others up with her. She has also stretched herself — to represent the online students, the students of color, the students aiming for careers in special libraries — all while working full-time in very demanding jobs, and being an online student. She has had to juggle a lot, but has always kept her end goal, of earning an MLIS and working as a law librarian, in sight."