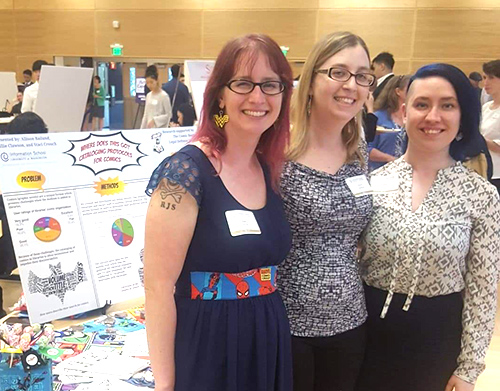 Comic books have long been the Rodney Dangerfield of libraries – they get no respect. Even graphic novels, comics' sister publications with a classier name, are often mixed in with children's books or placed in the stacks where users won't expect to find them.
That lack of respect has long extended to how libraries organize their catalogs of comics and graphic novels, sometimes making it difficult to find a classic Batman or a new Venom. Moreover, libraries lack a uniform way to organize collections of comics, making each library's collection dependent on whether it has a comics enthusiast on staff to nurture it.
Into this chaotic comic-book universe have stepped a trio of Information School alumni, who have been working for the past couple of years to bring some order to it.
"When I first got into comics, I wanted to check them out from the library and I found it really difficult to find what I wanted," said Staci Crouch, a 2018 Master of Library and Information Science alumna. "I would put something on hold and it wouldn't be what I needed, when everything in the record indicated it was."
Crouch wasn't alone. Fellow comic-book enthusiasts Allison Bailund and Hallie Clawson also recognized the problem, and the three online MLIS students teamed up to tackle it for Capstone, the final project on the path to their master's degrees. The Comic Book Legal Defense Fund (CBLDF) sponsored their project, in which they surveyed libraries and users, then developed recommendations for classifying and cataloging comics.
Aided by a retweet from author Neil Gaiman, their survey generated a huge response and lots of useful data – so much that they felt compelled to continue their push for better organization of comics. Since graduating in June 2018, they've presented at the annual American Library Association conference and tabled at the San Diego and Emerald City Comic-Cons, and they are now working on a chapter for a forthcoming book on comics' place in libraries. The CBLDF offers the team's guidelines for organizing comics on its website.
"There's a huge array of adult comics that have really great stories and compelling characters, so it makes for great reading."
One of the group's recommendations is to give comic books their own shelves, a sign of their maturity as a medium. American comic books may have started out as cheap entertainment, but they've long since developed stories as rich as those in any book. And as anyone who's been to a movie theater lately knows, their characters have become cross-media phenomena that appeal to kids and adults alike.
"There's a huge array of adult comics that have really great stories and compelling characters, so it makes for great reading," said Crouch, who works as the lead archivist at the Center on Contemporary Art in Seattle.
Anyone who's seen the latest "Avengers" movie also knows that comic-book storylines can be complicated, with characters frequently being rebooted and their stories interwoven across complex multiverses where time is often not a constant. Fortunately for librarians, the ability to catalog comics doesn't depend on a deep understanding of every detail. Some basic knowledge will suffice, the iSchool alumni said.
"I would compare it to having a bibliographic knowledge of another language," said Clawson, who has been working at the UW Tacoma library and at a Seattle bookstore since earning her MLIS. "If you're approaching superheroes, there are certain things you need to know about how superheroes work and how they are published. As long as you have that basis, it's easy to approach any superhero."
For Bailund, comic books are not only a passion project; they are part of her job as a library services specialist at San Diego State University. She splits her time between acquisitions and cataloging, with a focus on the library's comic arts collections. She points to nonfiction graphic novels such as Art Spiegelman's Maus and U.S. Rep. Jon Lewis's March as signs that comics can be taken seriously.
"I think as those titles become more popular, people are realizing the value of comics, even superhero comics," Bailund said. Her library's recent purchase of We Spoke Out: Comic Books and the Holocaust is an indication that it's embracing the historical significance of comics. "I think it is becoming more accepted, but it's a slow acceptance," she said.
With comic books enjoying a resurgence in popularity and more people looking for them at libraries, the group of iSchool alumni knew their project might gain some traction.
"We kind of lucked out in terms of timing," Clawson said. "With superhero movies being so popular and comics coming into their own right now, people are more willing to listen."