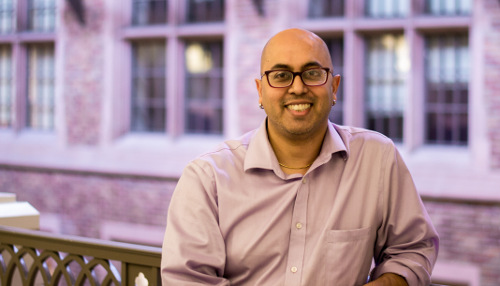 In a little over a year as Dean of the iSchool, I've had the pleasure of meeting countless alumni and getting a real sense of the special community we have here. The iSchool is more than just the place where you spend a couple of years earning a degree. It's where you form meaningful personal and professional connections that will last throughout your life and career.
I've also found that an alumni community needs to be nurtured. I love to see our graduates stay involved from the moment they leave the school to support both current students and their fellow alumni. The iSchool has an important role in making these connections: We need to reach out and invite alumni to remain engaged, as well as create spaces to connect and celebrate our broader alumni community.
Many early-career alumni have told me that they'd love to stay involved in the school, but we haven't done enough to keep in touch. They might receive an email from time to time, but they aren't being made to feel like they are still part of our community. So we are going to do better.
A vibrant alumni community is incredibly valuable to both alumni and students. Especially in the first few years after graduation, alumni can provide invaluable advice, both inside and outside the classroom. It can be easy to forget that the first step after college is often an uncertain one. From my own experience I know that when I graduated, I didn't have a firm grasp of what to expect in my first job, and what expectations would be placed upon me. Having someone who can help you navigate the transition can make all the difference.
More than 80 percent of our alumni stay in the Puget Sound area, so we have a deep pool of local alumni who can participate on panels, give guest lectures, or host visits to their workplaces that open our students' minds to different career options. Alumni can also help in their workplaces by promoting connections to iSchool students through Capstone projects, internships or job opportunities, and by acting as advocates for the school. As we've seen at several local companies, one iSchool graduate can help form a pipeline for future hires.
"I'd like for the iSchool to be a resource where alumni can return for advice and support as they progress in their careers."
For graduate students and alumni who already know their way around the work world, a professional network is immensely valuable. When it's time to take the next step in your career, a peer who can serve as a sounding board can be a huge help, and a connection to an employer might open a door you didn't know was there. I'd like for the iSchool to be a resource where alumni can return for advice and support as they progress in their careers.
Fortunately, many of our faculty have already been engaging alumni in informal ways for years. Many of them use their professional networks very effectively to help alumni further their careers and help our students find directed fieldwork opportunities, course projects, Capstone projects and jobs. Meanwhile, Lecturer Laura Schildkraut started an iMentorship program last year that has quickly expanded to 100 professionals who share their time and wisdom with students. In the program, mentors volunteer to meet with a student a few times each quarter and be available for questions about things such as course selection or preparing for a job interview. I would love to see us build off what we've done with the iMentorship program to establish a broad network of professional contacts for our alumni and students.
To that end, we recently welcomed Tara Warming into the newly formed role of alumni coordinator. Tara is going to become our go-to person for alumni engagement, but first she's going to get to know you. She's starting by recruiting some small focus groups who will help create a survey that we'll then send to as many alumni as we can find to learn more about how we can improve. I encourage you to learn more about her priorities and let her know if you have feedback to share.  
With a little more structure and effort, I think we can create the kind of alumni community where generations of students are continuously helping one another succeed academically and professionally. Please be sure to respond when the survey goes out, and feel free to reach out and introduce yourself to Tara at warmingt@uw.edu or email me at anind@uw.edu.
Anind Dey, Professor and Dean
February 2019
***
P.S.: We invite our alumni to participate in the UW's inaugural Husky Giving Day on April 4 by making an online gift to support the students, faculty and programs of the iSchool. This university-wide day of philanthropy will be filled with giving challenges and matching opportunities. I hope you will participate at the level that feels right to you. The amount of money we raise on Husky Giving Day is less important to me than seeing a high level of participation that shows the strength and spirit of the iSchool community. I hope we can count on your support.