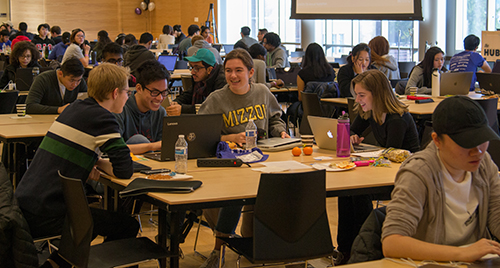 About 150 University of Washington students gave up a sunny Saturday to solve information problems at the seventh annual Winfo Hackathon on Jan. 12 at the HUB on the UW campus.
Many of the students were Informatics majors, but the event was open to all UW students. Hackers were tasked with developing apps and websites around the theme of "A World of Difference" – thoughtful solutions that promote equity.
Harkiran Saluja, a freshman from Southern California who joined the Informatics program through the Information School's Freshman Direct Admission program, was attending her first hackathon. She said she's interested in user experience and website design and was eager to design a website that helps solve a problem in the world.
"I'm going to take it as a learning experience and something new now that I'm at the UW," she said.
A teammate of Saluja's was Linh Tran, who was also experiencing her first hackathon. A junior transfer student studying information systems and accounting at the UW's Foster School of Business, Tran said she was eager to learn with a diverse group of students.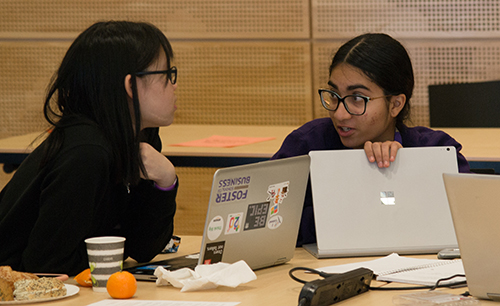 "I love technology, and even though I'm in business, I feel like there's always something you can contribute to make the world a better place," Tran said. "I really want to be a part of something like that. And I really like the idea of bringing people together in a day."
At the end of the 12-hour hackathon, a panel of judges gave awards to some of the notable ideas, including:
Best Overall: "Shower Power." Students created a prototype of a mobile application to reduce water wasted in the shower.
Best Impact: "LGBTQ+U," an app that connects people to services in the LGBTQ community.
Best Design: "Splash," a game intended to reduce water consumption while promoting healthier lifestyles.
Winfo, short for Women in Informatics, is a student group dedicated to empowering women to thrive as producers of technology. The hackathon, which students hold each year during winter quarter, also serves as a networking opportunity, with recruiters visiting from several companies. This year's sponsors included ExtraHop, Liberty Mutual Insurance, Ticketmaster, Deloitte, Accenture, PricewaterhouseCoopers and KPMG.