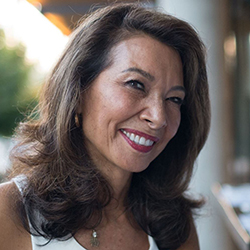 Cynthia del Rosario, the University of Washington Information School's diversity, equity and access officer, has been named the 2018 recipient of the Samuel E. Kelly Award, the highest honor given by the UW Alumni Association's Multicultural Alumni Partnership (MAP).
The award is given to an individual for sustained service, leadership and/or representation within the region's diverse communities that results in a compelling body of work. Del Rosario will be honored along with scholarship winners and distinguished alumni at the MAP Bridging the Gap Breakfast on Oct. 20.
"To be honored with this UWAA MAP Award, and particularly that it is the Samuel E. Kelly Award, is extremely humbling and a privilege. There are so many deserving people doing this work," del Rosario said.
At the iSchool, del Rosario has helped develop policies and practices to increase the number of students and faculty of color. She works to foster an equitable educational and social learning and work environment and to help iSchool students, faculty and staff advance in their knowledge and approach to equity and inclusion.
She serves on numerous university and community boards and committees, including the iSchool Diversity Committee, the UW Asian Pacific Islander American Faculty and Staff Association, and the UW Diversity Council.
"As we all know, we do this work on the backs and shoulders of those who came before us; we do this work alongside so many who inspire, motivate and enlighten us; and we do this work with our eyes on the future," del Rosario said.
Del Rosario earned her bachelor's degree at the UW in communication in 1994, and her master's in education in 1996. She has spent most of her professional career at the UW, including stints as a graduate researcher (2001-04) and assistant to the dean (2004-07) with the Graduate Opportunities & Minority Achievement Program (GO-MAP); director for minority recruitment and retention at the College of Education and the iSchool (2007-11); and in her current role at the iSchool since 2011.
The award is named for the late Dr. Kelly, the UW's first vice president for minority affairs and first African-American senior administrator.