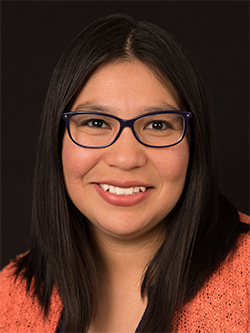 Naomi Bishop, '10, was recognized with the American Indian Library Association's (AILA) Rising Leader award at the 2018 Join Conference of Librarians of Color in Albuquerque, New Mexico.
The award is presented at the quadrennial conference to a promising future leader who has less than 10 years of experience in the profession. Bishop, an enrolled member of the Gila River Indian Community of Arizona, lives in Flagstaff, Arizona, and works as the Science and Engineering Librarian at Northern Arizona University.
Bishop volunteered with AILA while pursuing her Master of Library and Information Science degree at the UW iSchool and remained involved after graduation. She has served as AILA 's secretary, its newsletter editor, and both as a member and chair of AILA's American Indian Youth Literature Awards before serving as the organization's president from 2017-18.
Bishop said her career goal is to improve access to information services in Native American communities and to promote libraries, literacy and lifelong learning in all communities. While she was AILA's president, she worked with the American Library Association to include Native voices in its marketing materials. The ALA fall catalog now includes a bookmark and poster featuring Mary G. Ross, the first Native American engineer.
"I am so thrilled to see ALA including indigenous voices, stories and people in libraries across the country," Bishop said.
Cheryl Metoyer, an iSchool associate professor emerita, was also honored at the conference, held in September. She was given the AILA Legacy Award for her contributions to librarianship; assistance to American Indian libraries, museums and archives; and her mentorship of the next generation of Native librarians and educators.
"For me, as a graduate of the iSchool, it was very humbling to be recognized with my advisor and mentor, Dr. Cheryl Metoyer," Bishop said. "I chose to attend the UW because of the work of Dr. Metoyer and the other iSchool indigenous scholars."