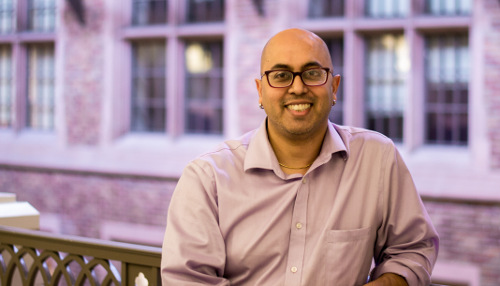 I often say that the world's toughest problems can only be solved when we bring multiple research disciplines to bear. Fortunately, here at the UW Information School, we have no shortage of scholarly pursuits.
Our researchers study topics as varied as data ethics, digital literacy, sociotechnical information systems and many more — all of them focused on how technology affects a real-world problem. At my previous post at Carnegie Mellon's Human-Computer Interaction Institute, all of our research fell within three main disciplines; here, we have more than 20. The opportunity to lead and guide people doing such diverse, quality research was one of the main reasons I jumped at the opportunity to become dean of the iSchool. 
Every day brings new advancements in how we create, store and share information, and new challenges to its security, reliability and accessibility. The world is living off information science, and it's looking to places like the iSchool to think about how to innovate. It can be technical advancements such as making touchscreens more responsive to people with motor impairments, or it can be social innovation such as developing a code of conduct around how artificial intelligence systems should behave, or authoring design guidelines for voice-based interfaces that children use. Social innovations are just as important as technical ones, and I'm proud and amazed to be working at a place where so many researchers on both sides of that coin come together with a common purpose. Research is at the core of our faculty's work. It's how we move the field forward and how we drive innovation.
At the iSchool, our work has a practical edge. Rather than focusing strictly on theory, we concentrate on applied research that affects people's lives. 
"In the coming months and years, I want to see the iSchool tackle bigger, more important questions — the tough problems that require interdisciplinary collaborations to solve."
For example, Batya Friedman and David Hendry's groundbreaking work in value-sensitive design has gained widespread adoption as the standard for incorporating human values in the design process. Wanda Pratt's work will improve countless people's experiences in hospitals by changing the way patients and clinicians interact and share information. Amy Ko is reshaping computing education in her recent research, which promises to have a huge impact on student engagement. Hala Annabi is tackling the gender gap in technology by researching how organizational structures can better support women's success. 
I could name many more, but these are just a few examples that highlight the broad spectrum of research we do at the iSchool. Having researchers focused on such disparate disciplines within one school gives us a unique opportunity for collaboration. In the coming months and years, I want to see the iSchool tackle bigger, more important questions — the tough problems that require interdisciplinary collaborations to solve. 
To continue to be a school that produces both amazing students and leading-edge, impactful research, we must continue to build our research enterprise. Tackling societal-level problems takes resources — we need to recruit and retain top faculty and secure funding for them to conduct large, complex projects. Our research funding comes from a variety of sources, including foundations, corporations and government agencies, and we are stepping up our efforts in each of those arenas. Alumni can help by supporting Next Gen Faculty Fellowships, which directly aid the teaching and research efforts of our junior faculty members. 
At the UW and the iSchool, we have many advantages in attracting and retaining top-notch faculty: We're at a public institution committed to global impact; we're embedded in a region known for both its natural beauty and its innovative spirit; and we attract the kind of high-caliber undergraduate and graduate students who are key to carrying out ambitious research projects. As dean, it's my mission to ensure faculty have the time and resources to devote to those projects and students. When you support a Next Gen Faculty Fellowship, you provide seed funding for a faculty member to work with three or four additional students, improving both the quality of the research and our students' experience. 
For students, there's nothing better than getting engaged in research. Even if they aren't interested in it as a career path, being involved in a research effort teaches them a lot of useful skills such as project management, data gathering and analysis, working with people effectively, and writing persuasively. When I dabbled in research as an undergrad and got more deeply involved as a master's student, it changed my entire outlook. I could see there was another path I could take with my life, and I said, "I want to go do that." 
Here I am, a couple of decades later, still doing that. I love nothing more than giving iSchool faculty and students the same opportunity. If you have ideas about how we can support the iSchool's research efforts, please share them with me at anind@uw.edu. To make a gift to support Next Gen Faculty Fellowships, visit ischool.uw.edu/nextgen.
Anind Dey, Professor and Dean
Fall 2018