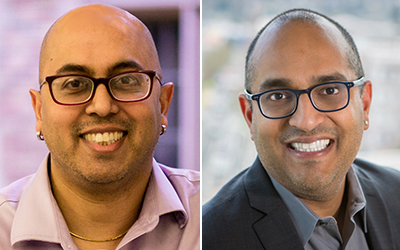 Anind Dey, dean of the University of Washington Information School, and Vikram Jandhyala, vice president for innovation strategy, are among the leading figures in technology from the Puget Sound area included on Seattle Mayor Jenny Durkan's new Innovation Advisory Council.
"Government cannot solve all our challenges, which is why we must come together towards innovative solutions within our own government as well as our region's biggest challenges, including homelessness, affordability and transportation," Durkan said. "While technology alone cannot fix our most pressing issues, it must be part of the holistic solution."
Durkan established the collaboration with Seattle's technology community to find innovative solutions to the city's most pressing issues, such as homelessness, a housing shortage, and traffic woes. The group is comprised of community members and businesses from across the city with an expertise in technology solutions, transportation and mobility, logistics, project management, engineering, data analytics, and/or software development.
"I'm excited to be part of this dynamic group of regional leaders," Dey said. "The UW Information School studies the use of technology to solve real-world problems, and I'm eager to engage the collective brain trust of our students, faculty and alumni in this effort to improve lives in our community."
The Innovation Advisory Council will assist with issues and policies where the use of data and technology could be beneficial. It will identify such issues, make policy recommendations, and spearhead the implementation of solutions including new data analytics, dashboards, applications and software for the city.
"I look forward to using  the principles of inclusive innovation and the strengths of the community, including the UW, to address key civic challenges from a variety of vantage points," said Jandhyala. "Thanks to the leadership of Mayor Durkan, this group will help focus attention and create solutions to these issues in an appropriate and timely manner."
In addition to Dey and Jandhyala, the council includes 16 initial members, including co-chairs representing Expedia, Tableau, the Technology Access Foundation and Artefact. The group held its inaugural meeting Sept. 20.