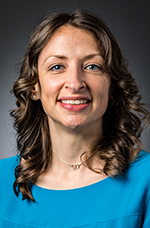 Leslie Hurst, a 2003 alumna of the Information School's Master of Library and Information Science program, has won the 2018 University of Washington's Distinguished Librarian Award for her work as head of teaching and learning at the UW Bothell and Cascadia College library.
The honor for Hurst was among the Awards of Excellence announced recently by UW President Ana Mari Cauce and Provost and Executive Vice President Jerry Baldasty. The award recognizes excellence in librarianship, as it benefits the academic community through innovative approaches to practice, research, teaching and learning.
"Leslie is a crucial element in the success of many faculty and students, with her deep knowledge of pedagogy," they said in presenting the award. "She has led the development of library instruction for information literacy pedagogy, enabling UW Bothell libraries to thrive. And her calm, supportive approach makes her a favorite with students, in class and in the library, where they often seek her out. That's no surprise, since she always goes the extra mile to ensure that students understand the material."
Hurst and the 13 librarians she supervises at UW Bothell and Cascadia College work with faculty to conduct information literacy workshops and help students learn how to do research. She also helps students learn to evaluate information and sort reliable sources from untrustworthy ones.
"It boils down to thinking critically," Hurst said in a story on the UW Bothell website. "Don't just consume anything and everything. Pause a moment and think about where it might be coming from, how they might be trying to influence you, how their perspective might be biased in certain ways."