The list of Airlift Northwest missions is long: wilderness rescues, plane crashes, car accidents, strokes, heart attacks, neonatal emergencies. Since its founding in 1982, the nonprofit air ambulance service has transported more than 100,000 critically ill and injured patients to medical centers throughout Washington, Alaska, Idaho, and Montana.
Speed and efficiency are critical to patient outcomes. That girl who slipped off a cliff may have only an hour to live without life-saving rescue and medical treatment. Time is of the essence. So the air ambulance service was game when a team of Information School Informatics students proposed developing a new communications tool with the potential to streamline airlift operations.
"We thought we could help them move forward in the technology space. Health care is behind in that sense," says Tiffany Chen, user experience and software engineer for the four-member team.
The tool, called Elevate, is a mobile-friendly web application that acts as a connective communication hub, allowing Airlift Northwest crews to instantly view mission-critical data as it is entered and updated by dispatch after an emergency call comes in.
A touch of the finger shows a wealth of mission data: the status of the aircraft, where it's based, whether it's a fixed wing plane or helicopter; the estimated time of takeoff, pickup, and arrival at destination; the names of pilots and flight nurses onboard; important contact information; what extra medical equipment is needed; and more. The app provides the highly skilled Airlift Northwest nurses – each with at least five years of critical care experience – mission data on patients (minus identifying information, for privacy reasons). That data includes vital statistics, patient condition (Is the man intubated? The pregnant woman dilated?), and their medical requirements in flight (IVs? Respirator? Plasma? Blood?).
The app is a big tech step forward for Airlift Northwest, a nonprofit entity of University of Washington Medicine.
"Right now, crews are using three or four different modes of communication: pagers, SMS text messages, radio, and phone. Our project reduces reliance on them and adds rich contextual notifications about a new mission request," says Chen, whose team members include product owner and developer J. Benjamin Leeds, developer Jessica Basa, and product designer and developer Vincent van der Meulen.
They took on the challenge for their 2018 iSchool Capstone project. The iSchool projects put students' academics into action in the real world, culminating their learning at the school. Their project began with a four-way brainstorm. What were the team's common interests? Chen and Basa had a special interest in health care; Leeds, a certified pilot, was interested in aviation. All wanted to make an impact – an impact that would last long after the May 30 Capstone presentation night.
"We looked for an organization that matched our interests, and reached out to Airlift Northwest," says Leeds, who initially made contact with the company's personnel through Facebook. "Then began the dialogue on what we'd be able to do in our timeframe that would add the most value to the organization."
To optimize user input, team members spent one day each week interviewing employees in various roles throughout Airlift Northwest headquarters in Seattle. "We sat down with them, watched them do their work, and asked them about the problems they encountered, possible things we could solve," says Van der Meulen.
The students regularly returned with new design possibilities for more rounds of questions and feedback. "We made so many changes to get it to where it is," says Leeds.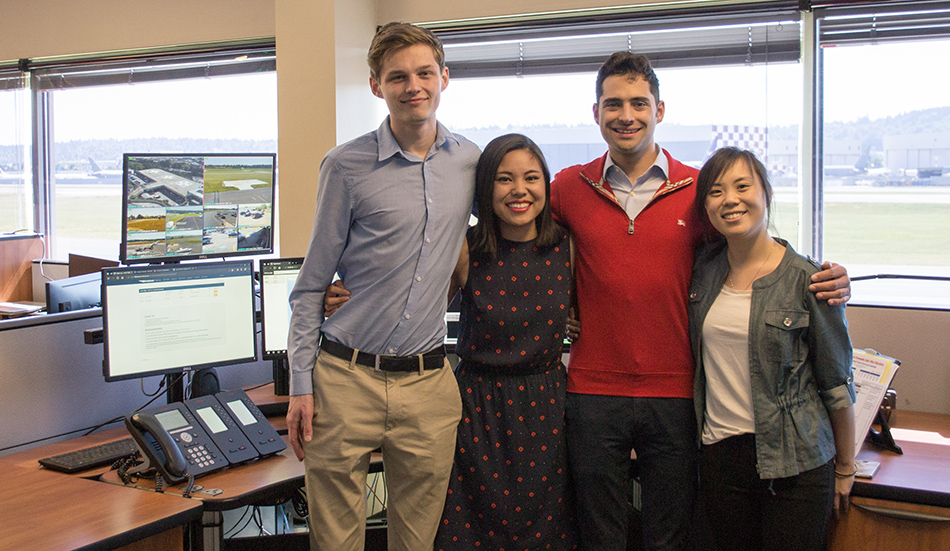 A key problem that emerged was the difficulty of dispatch and flight crews exchanging information in real, or near-real time. "During a mission, there is a need to communicate accurately, early, and often," says Airlift Northwest's Technology Manager Chris Carlton-Bishop, who describes the iSchool students as "professionals" who stirred up ideas and delivered on all their commitments.
"Working with a team of young developers brings energy and excitement to the business far beyond the applications," he says. "The nurses who had a chance to interact with the team are excited about what they were developing, the IT team was energized by working in relevant technologies, and the leadership was challenged, in a good way, to think about how those outside the day-to-day operations see things in a different light and offer innovative solutions."
Designing a high-functioning app in a complicated scenario where lives are at stake was a huge challenge for team members. Their product had to be compliant with both HIPAA regulations (patient confidentiality and information security) and FAA guidelines, and it had to address a myriad of concerns.
"This is a very complex space. We are working in aviation and health care, fields that you can spend your whole life studying and still not know everything about," says Leeds. "We had to leverage what we knew from informatics courses about design thinking and contextual inquiry and determine how to proceed: How is this communication flowing and how do we build technology to address it? It was like drinking from a firehose."
One challenge was data delivery. Different users of the Elevate app see different data, depending on their role. Pilots, for instance, do not see patient information – information that could influence their risk assessments. "It's so they can make rational decisions regardless of what is happening with the patient in the back of the aircraft," says Leeds.
To ensure app reliability, flight nurses, pilots, and dispatchers are all connected to the application on the Google Cloud platform. There, modern technologies like Kubernetes and a team of Google Reliability Engineers are constantly ensuring the application stays up and running. "Airlift Northwest has never had a custom application, nothing built for them from scratch. And they had not embraced the use of the cloud before this project," says Leeds. "So our team guided them through elevating their technology to be fully deployed in the cloud."
Airlift Northwest launched the Elevate app in late May after training. Carlton-Bishop says the company will begin measuring whether its response times are reduced after app implementation.
He is looking forward to working with more Capstone teams in years to come. To maintain and improve on the app, Team Elevate has set up an infrastructure that allows Capstone teams working with the nonprofit to add functionality going forward. "Our goal was to set them up for the future," says Van der Meulen.
After months of all-consuming work – members say their families wonder why they don't return calls – the team is finally satisfied that they have met their goal: to use the knowledge learned at the iSchool  to make a lasting impact in the world.
"We know we are delivering something that will work for their users, because we've kept them involved every step of the way," says Leeds. "We've really considered what it is like to live and work in their shoes."