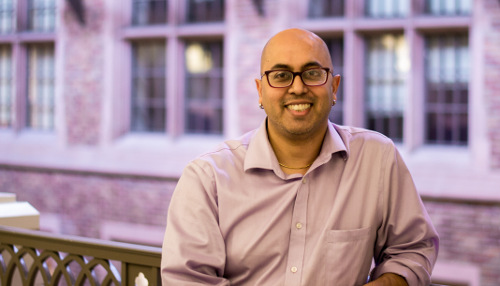 In my first few months as Dean of the Information School, I have moved across the country, met countless alumni, students and friends of the school, and gone to a LOT of meetings. It has been a whirlwind, but every day I feel even luckier to be leading this school.
I see across our programs that students come here to experience our warm, welcoming intellectual community and to gain the knowledge and skills to help them make a difference in the world. They come to learn from faculty with a personal touch and an amazing diversity of interests. Our recent Research Fair highlighted more than 70 ambitious projects involving iSchool faculty and students, many in partnership with other schools and colleges at the University of Washington. One of the things that attracted me to the school is its interdisciplinary approach, and that has proved to be exactly as advertised.
Another highlight of my early days in this job has been the passion of our alumni. I have had the pleasure of meeting many iSchool graduates in person and over email, and I can't wait for the upcoming American Library Association conference in New Orleans and other opportunities to meet more here in Seattle. No one is better-suited than alumni to tell us whether our programs are preparing professionals with the skills to succeed. Whether they graduated four years ago or 40, those who are working in the field are uniquely able to tell us how what we are teaching aligns with organizations' needs. In the coming months, I plan to establish new ways for graduates from all of our programs to re-engage with the school. In the meantime, keep the email coming to me at anind@uw.edu.
So far, my discussions with faculty, staff, students and alumni have been very productive. Those many meetings have helped me zero in on a few areas where I plan to focus my attention in the coming months. In no particular order, they are:
Endowed faculty chairs: One of the ways we can recruit and retain amazing faculty is by giving them endowed chairs. Endowments relieve some of the pressure of fundraising and help pay for doctoral students to serve as research assistants. In the academic world, an endowed chair comes with prestige and helps to show how much we value our faculty. At the iSchool, we have one endowed chair, the Beverly Cleary Professor for Children and Youth Services. The fact that we were fortunate enough to bring on someone as wonderful as Michelle Martin through that professorship shows how much a faculty chair can mean. I would like to add many more of these types of faculty chairs in the iSchool.
Scholarships: I would also like to see the number of scholarships multiply. Unfortunately, the cost of higher education is rising, here at the UW and across the country. As the cost rises, the socioeconomic divide grows, and we disadvantage whole segments of the population who cannot afford to come here. As we work to foster diversity, the cost of education works against us by perpetuating privilege. At the iSchool, approximately half of our students at both the undergraduate and graduate levels receive some form of financial aid. Our costs rise like everyone else's, but scholarships can be our No. 1 way of leveling the playing field. They reduce the burden while people are in college without saddling them with debt after they graduate. We want everyone who is fortunate enough to be accepted into one of our programs to be able to afford to enroll.
Space: We also need room to teach all of those students. Our programs are in high demand, but we are under constant strain to find space for instruction and places where students can meet and talk with colleagues and instructors. We need lab space to recruit faculty and office space for them once they are here. Our goal is to identify a place that gives us room to grow while remaining in a strategic location on campus. Renovating an existing space on campus is our first and best option, and we have explored a couple of places that have potential. As we move forward, we'll determine costs and funding and present a plan to the university provost.
In each of these areas, we want to find partners in the community who believe in the mission of the iSchool and are willing to invest in that mission. That obviously includes alumni, but it doesn't stop there. It extends to the companies that are going to be employing our graduates. We have an opportunity to teach many more local students and produce STEM graduates who will move on to terrific careers, but we need the resources to be able to do that. Seattle is desperate for the kinds of graduates that we produce. Our job is to make sure our corporate friends realize we produce them, and to form symbiotic relations with them: they help us produce the graduates that they then need to employ.
Stay tuned. We're just getting started!
Anind Dey
Dean and Professor
Spring 2018