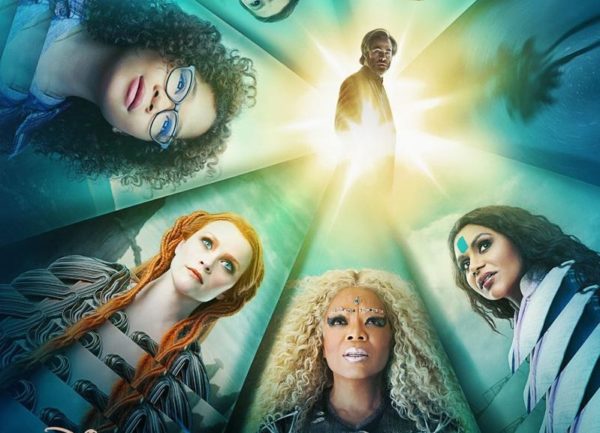 Michelle Martin, Beverly Cleary Professor for Children and Youth Services, and Martin's research assistant, J. Elizabeth Mills, shared a story with the UW Alumni Association that was given to viewers at its screening of "A Wrinkle in Time" on Saturday, March 10. It's reprinted here by permission:
Some folks consider "A Wrinkle in Time" a dangerous book. True, Madeleine L'Engle's novel won the Newbery Medal in 1963 as well as a Lewis Carroll Shelf Award (which designates a book worthy to sit on the shelf next to Carroll's "Alice in Wonderland"), and it was a runner-up for the international Hans Christian Andersen Award in 1964 (the highest recognition given to a children's book author or illustrator). But it has also been on the American Library Association's Most Frequently Banned Books List for decades. Why? Some find the mashup of religion, science, space travel, and spiritualism objectionable. But having a young female protagonist as strong, stubborn, and non-conforming as Meg Murry likely made just as many readers squirm when it was released in 1962.
Curiously, this classic novel almost didn't make it into print. According to a March 5, 2012, NPR article, "Despite considerable misgivings, Farrar, Straus and Giroux bought the book. They sent it to an outside reader, who called it 'the worst book I have ever read.' The book's editor admitted it was 'distinctly odd' but conceded: 'I for one believe that the capabilities of young readers are greatly underestimated.' His faith in young readers paid off" (NPR). After over a dozen rejections, the book was finally published. Ten million copies of "A Wrinkle in Time" are currently in print (NPR).
The 2018 film, starring Oprah Winfrey, Reese Witherspoon, Mindy Kaling and Storm Reid, and directed by Ava Duvernay, transforms L'Engle's well-read story into a cinematic feast, with stunning costumes and visual effects, that attests to the dynamic power of women and girls to make positive change in the world. In her October 11, 2017, essay, "Why All Girls Need to Read 'A Wrinkle in Time,'" on the Today Parenting Team Website, Samara Rose writes: "Long before we had Katniss Everdeen, we had Meg Murry — the ultimate bad-ass girl hero. She saves the day not despite her defiance and stubbornness, but because of them. All girls need to understand that they can be the heroes, and that their uniqueness is their strength. Meg Murry made it OK for me to be the awkward nerd; to be smart instead of pretty…" and for many other young readers, Meg Murry has been a powerful heroine in a classic novel that has stood the test of time. On top of that power, add the casting of Storm Reid — a nerdy, scientifically astute, creative-minded girl of color — as Meg, and you have an awesome recipe for 21st-century girlhood.
"A Wrinkle in Time" — both the novel and the film — transports readers into a dangerous space where only children can save the day. And what's required of them isn't brute force but love in the face of mindless obedience and control. Just as the novel was written during the Cold War, the film is being released in a time of increasing polarization and widespread anxiety. Meg's victory on Planet Camazotz signals an ever-present hope for our future — hope for pluck and spunk and a fierce determination to do what is right even if it's counter to what's expected or mandated of her. Love has the power to do that.