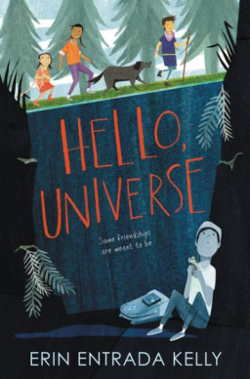 An Information School alumna had a major hand in awarding this year's John Newbery Medal, given for the most outstanding contribution to children's literature. Cecilia McGowan, a 1984 alumna of the school's Master of Librarianship program (now MLIS), chaired the committee that selected this year's winner.
The 2018 award, announced Feb. 12, went to "Hello, Universe," written by Erin Entrada Kelly. Newbery Honors went to "Crown: An Ode to the Fresh Cut," written by Derrick Barnes, illustrated by Gordon C. James; "Long Way Down," written by Jason Reynolds; and "Piecing Me Together," written by Renée Watson.
McGowan, who is the Children's Services Coordinator for the King County Library System, also has a tie to the iSchool as KCLS's representative to the professional development portion of the school's Beverly Cleary Endowed Professorship. Puget Sound-area library systems send representatives to meet annually with the Cleary professor, Michelle Martin, to share best practices in children and youth services librarianship.
As chair of the Newbery Medal committee, McGowan guided the 15-member group through the secretive process of selecting the winning book before the award's governing organization, the Association for Library Service to Children (ALSC), announced the Newbery Medal Award Winner.
Andrew Medlar, past president of the ALSC, who selected McGowan to lead the committee, said: "I have long admired her nationally-recognized work at KCLS and deeply respect her true commitment to books and kids, and her passion for connecting them through libraries."
"Hello, Universe" is a story about a diverse group of middle school students and their unexpected encounters, including a boy who gets trapped in a well with his guinea pig.