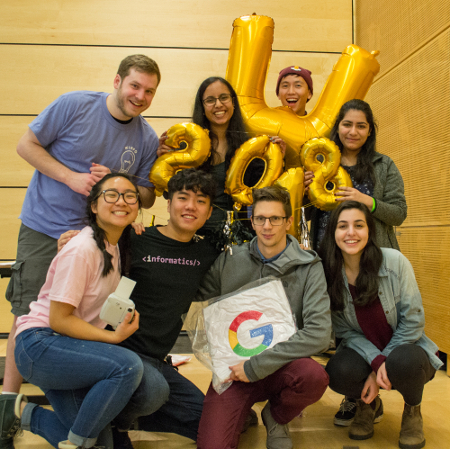 More than 200 students from across the University of Washington spent a good chunk of their weekend dreaming up ideas at the 6th annual Women In Informatics (WINFO) Hackathon.
This year's Hackathon, held on the Saturday before the Dr. Martin Luther King Jr. holiday, was centered on an appropriate question: "What does equality mean to you?" Participants were challenged to work in groups of four or fewer students to devise ways for technology to promote equality.
Tiffany Chen, co-president of the WINFO student group, estimated that about two-thirds of attendees were at their first hackathon. The WINFO Hackathon was open to all UW students.
"I think the best thing about this event is that it's super-open to new hackers. Regular hackathons are very intimidating if you don't have a team or don't have a lot of coding skill," Chen said. "This one focuses less on implementation and more on your ideas and how they address the difficulties of society, which is a very Informatics-based idea."
New Information School Dean Anind Dey saw a lot to like at his first iSchool student event.
"I was impressed not only with the large number of participants in the hackathon – it was a truly packed house! – but also with the creativity that was shown in the developing an exciting array of applications focused on improving equality on many fronts," he said. "This was very apropos, given the renewed focus that equality has taken in public discourse, and that it was the weekend of Martin Luther King Jr. Day. I saw several applications that I wish were available to the public today."
At the end of the 12-hour event, a panel of judges handed out awards in three categories:
Best Design: "With You," an information hub to combat sexual harassment in the workplace. The site would allow users to search companies' gender ratio information and sexual harassment policies, and would offer legal and mental health resources to victims of such incidents. Hackers: Alexis Choi, Zhiqi Lin, Casey Lum, Chris Oh.
Best Impact: "Hi!" This is an app and website that would empower refugees by partnering with resettlement organizations, through technology. Hackers: Andrew Hwang, Kevin Huynh, Tristan Macelli.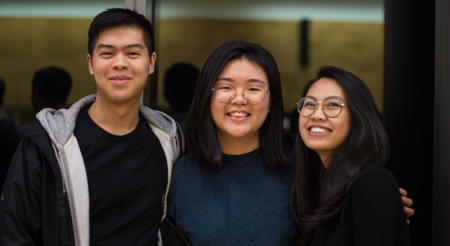 Best Overall: "Cyrus," a language learning app designed for low-income families whose children have limited access to such services. Hackers: Reine Abubakar, Stephanie Choi, Justin Tran.
The judges included iSchool Lecturer Brian Fling; Minh Ho, a manager at Alaska Airlines; Stephen Ramirez, an Informatics alumnus and application developer at Starbucks; Brittney Hoy, a software developer at Disney and past WINFO president; and Jessalyn Cheng, a project manager at AT&T and past WINFO president.